MAP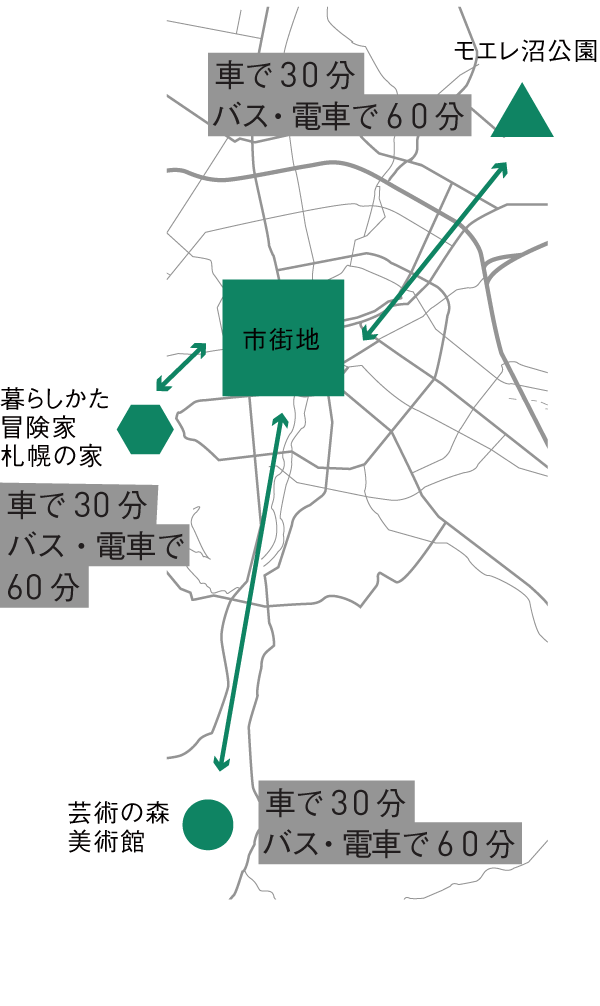 Routes to Sapporo
The main air routes and the approximate flight times
Tokyo (Haneda) – Sapporo

90min.

Narita – Sapporo

105min.

Osaka (Itami) – Sapporo

115min.

Fukuoka – Sapporo

155min.

Chubu – Sapporo

95min.

Naha – Sapporo

185min.
Trains and buses connect the New Chitose Airport with Sapporo
The rapid-transit train operated by Japan Railways departs New Chitose Airport station every 15 minutes, and the commute to JR Sapporo station takes 36 minutes. By bus, even the center of downtown Sapporo is only about 60 minutes away via expressway.
Airports with direct flights to Chitose (Sapporo)
Incheon International Airport (Seoul, Korea)
Taiwan Taoyuan International Airport (Taipei, Taiwan)
Beijing Capital International Airport (Beijing, China)
Shanghai Pudong International Airport (Shanghai, China)
Dalian Zhoushuizi International Airport (Dalian, China)
Hong Kong International Airport (Hong Kong, China)
Guam International Airport (Guam, U.S.)
Yuzhno-Sakhalinsk Airport (Yuzhno-Sakhalinsk, Russia)
Honolulu International Airport (Hawaii, U.S.)
Suvarnabhumi Airport (Bangkok, Thailand)