CHROMA After Talk
What does media art express now?
―get to know it from performances of dumb type to 《CHROMA》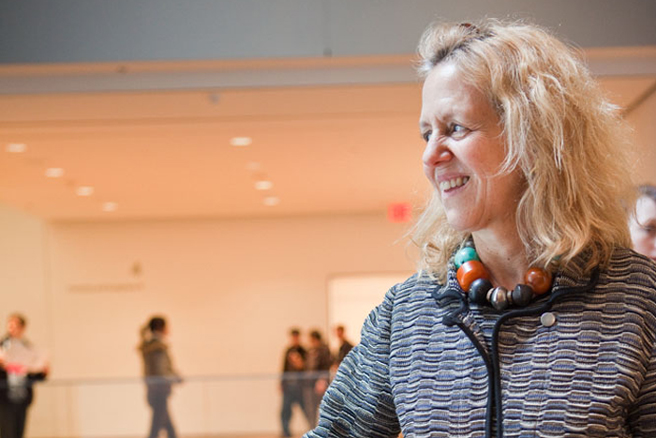 Ms. Barbara London, a curator representing the field of media and video art, makes a research trip to Japan with a stop in Sapporo. She has worked extensively with the Kansai artist group "dumb type" since the 1980s. Ms. London will be in conversation with co-founding "dumb type" member Mr. Shiro Takatani, following his 《CHROMA》performance. In the conversation they will be joined Mr. Akira Asada, who is the SIAF2014 project advisor and who has written extensively about "dumb type". Together they will discuss what media art expresses and its situation today. It will be a special night to experience media art in Sapporo again.
Date/Time: Saturday, July 26th 2014 / After the performance
Venue: Sapporo Education and Culture Hall (same place as performance)
* This is for only those who attending the performance.
* Artist Talk in Japanese with consecutive English interpretation
Organized by Sapporo International Art Festival 2014
Cooperated by SAPPORO MEDIA ARTS LAB
Speaker:
Akita Asada (SIAF2014Project Adviser)
Shiro Takatani (CHROMA Director General, Artist)
Guest:
Barbara London (Writer, Yale professor, and founding media curator, MOMA)
Barbara London is a curator and writer who founded the video exhibition and collection programs at The Museum of Modern Art, where she was curator between 1973 and 2013. The exhibitions she organized include one-person shows featuring early mavericks Nam June Paik, Bill Viola, Steina Vasulka, Joan Jonas, Shigeko Kubota, Peter Campus, Gary Hill, VALIE EXPORT, and Laurie Anderson. She was the first curator in the United States to showcase the work of Asian artists Song Dong, Teiji Furuhashi, Feng Mengbo, and Yang Fudong. Her thematic projects have included Video from Tokyo to Fukui and Kyoto; New Video from China; Anime!, Stillness (Michael Snow and Sam Taylor-Wood), Automatic Update; Looking at Music, parts 1-3; Through the Weeping Glass: On Consolations of Life Everlasting (Limbos & Afterbreezes in the Mütter Museum) with the Quay Brothers; and most recently, Soundings: A Contemporary Score at MoMA. Ms. London was the first to integrate the Internet as part of curatorial practice. The projects where she put daily dispatches on-line include Stir-fry (1994); Internyet (1998); and dot.jp (http://www.moma.org/dotjp/) (1999.) Her teaching includes the Yale Graduate Department of Fine Art, NYU Department of Film, Graduate Computer Department, SVA. Ms. London's writings have appeared in a range of catalogs and publications, including ArtForum, Yishu, Leonardo, Art Asia Pacific, Art in America, Modern Painter, and Image Forum. She received a Gertrude Contemporary Residency, Melbourne, 2012; and a Dora Maar House Residency, Menerbes, 2010. Through a CEC Artslink award (summer 2003) she investigated media art in Warsaw, Krakow, and Gedansk. She received a Japanese government Bunkacho Fellowship (winter 1992-93) and a National Endowment for the Arts Fellowship (winter 1988-89) to further professional development and investigate new trends in electronic technologies and the effects on the creation and distribution of the arts in Japan.