SIAF2020 Plans & Ideas - We will bring the cancelled exhibition SIAF2020 to you by any means possible.
The Sapporo International Art Festival 2020 has been cancelled due to the impact of COVID-19.
However, the ideas and plans prepared for SIAF2020 will be presented through online programs, events, and a printed book.
Information will be released sequentially on the updated SIAF2020 website from Saturday, December 19, 2020.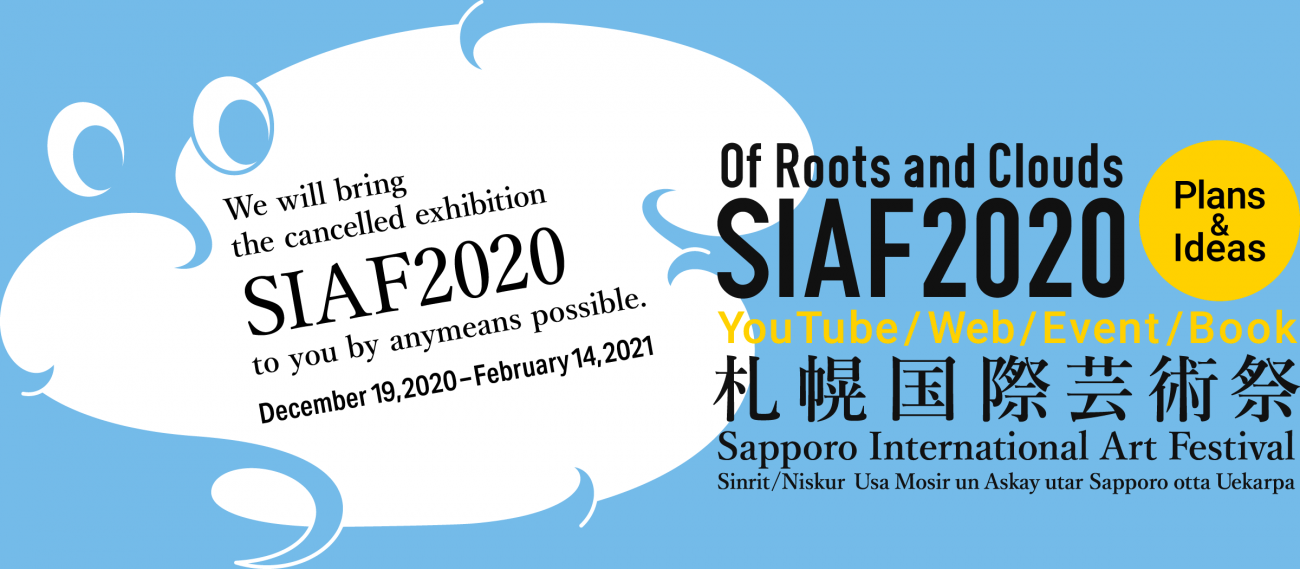 YouTube content "SIAF TV"
Start on Saturday, December 19, 2020
Part 1 Artist Interview
A total of 44 videos of the interviews with the participating artists will be published in order on the official SIAF YouTube channel.
The real voice of each artist, including the artwork concept and their thoughts on Sapporo, will be presented.
Part 2 Special Programs
We will deliver a special program featuring the directors and artists of the SIAF2020, as well as special guests, and on December 19, the team of directors will also attend the opening program!
Website "SIAF2020 Matrix"
Start on Saturday, December 19, 2020
Using the advanced technology, we built a speculative presentation of SIAF2020 on a website, which will bring you a unique visiting experience only available online.
Access it from the SIAF official website!
Showcase "SIAF2020 Document"
Friday, February 5 - Sunday, 14, 2021
Venue: Sapporo Community Plaza (SCARTS)
The exhibition "SIAF2020 Document" will introduce the projects that were prepared for SIAF2020.
An opportunity to learn more about the artists' ideas. Open only for 10 days.
At the same time! "Sapporo Winter Change 2021"
SCARTS and SIAF LAB will collaborate to present a project that turns snow removal in Sapporo into art.
Record Book "SIAF2020 Index"
Scheduled to be published in February 2021
This book covers all the projects planned for the SIAF2020 and will be available for sale in late February.
Some of the contents will be published in sequential on the official SIAF website.
---
SIAF2020 Art Mediation program will also start!
Various activities that can be enjoyed by children and families will launch this winter.
Why don't you join us to see the things around you and the city of Sapporo from different perspectives?
Collection of Roots and Clouds|Instagram
Start on Tuesday, December 1, 2020.
Take a photo of your "roots" and "clouds"– those obvious one and more abstract too. Post them on Instagram with the hashtag #netokumo. Let's create a one-of-a-kind collection together!
Listen, Look, Imagine|Audio Guide through your house
Release on Saturday, December 19, 2020.
We encourage you to look at your home in a different way. Listen, pay unusual attention to the sounds, look closer, create in your imagination.
UNTONE from Sapporo|Activity book
Release on Saturday, December 19, 2020
Explore Sapporo with SIAF 2020's character UNTONE. Search for "roots" and "clouds" in the city of Sapporo!
This Activity Book will be distributed in the public facilities in Sapporo and the downloadable version will also be available on the official SIAF website.
Mo(e)re Play|Workshop
January 2021
Let's play with various shapes as if you were Isamu Noguchi, the designer of Moerenuma Park!
We are planning to share wooden boards and elements to use during workshop and materials that can be printed and enjoyed at home.