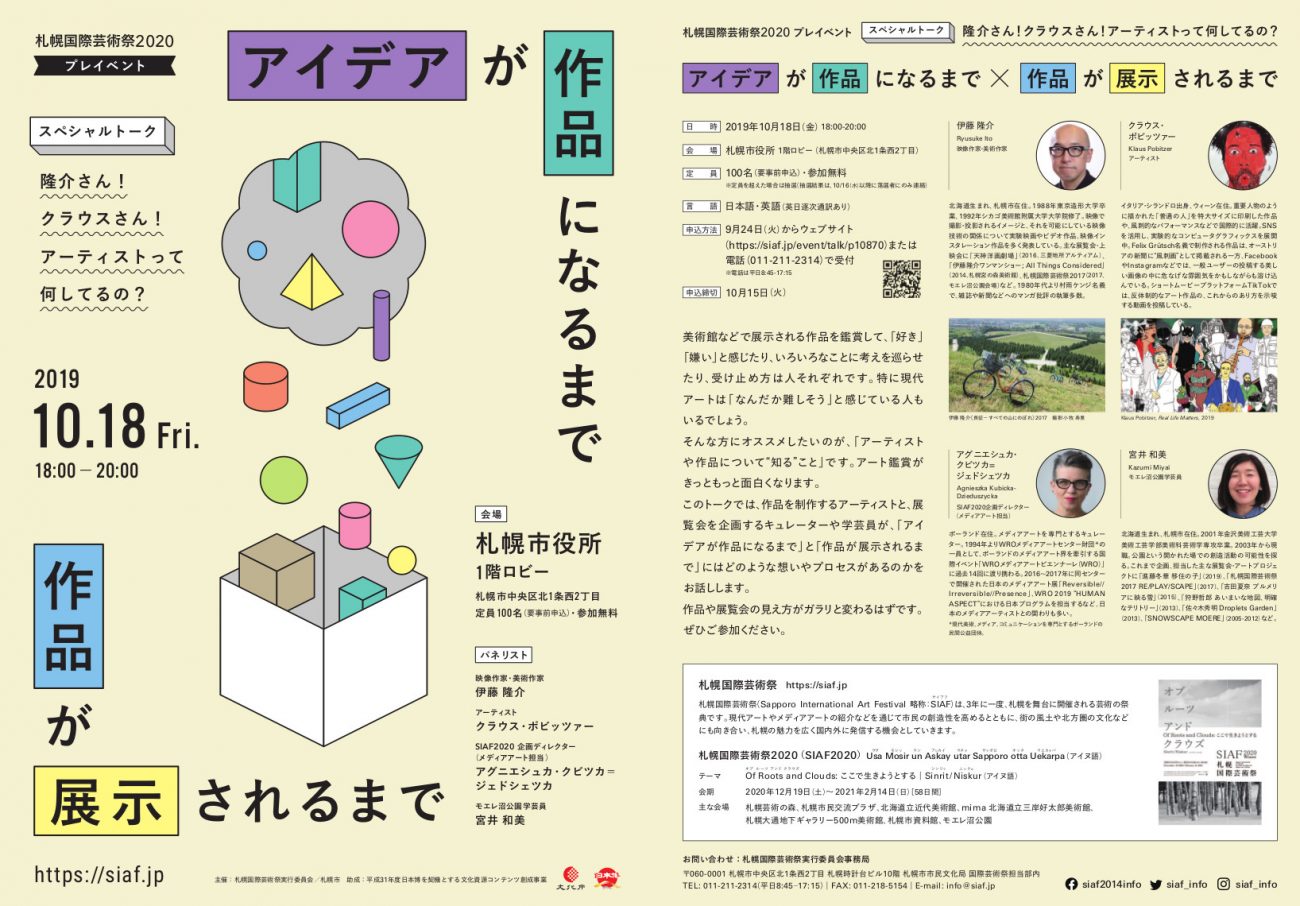 SIAF2020 Pre-event Special Talk "Ryusuke-san! Claus-san! What are artists doing?"
Until the idea becomes a work × Until the work is exhibited
Appreciating works exhibited in museums,  people feel "likes" or "dislikes" or thinks about various things. It is different how how they perceive it. In particular, some people may find contemporary art "somewhat difficult". What we would like to recommend to such people is to "know" about artists and works. Art appreciation will surely be more interesting. In this talk, artist who creates artworks, and curator who plans the exhibition, will explain what kind of thoughts and processes are involved in "until the idea becomes a work" and "until the work is exhibited". The appearance of works and exhibitions should change dramatically. Please join us.

<Panelists> From left to right (honorific title omitted)
Ryusuke Ito / Filmmaker / Artist
Klaus Popitzer / Artist
Agnieszka Kubicka-Dzieduszycka / SIAF2020 Curatorial Director (Media Art)
Kazumi Miyai / Moerenuma Park Curator
Until the idea becomes a work × Until the work is exhibited
[Date] October 18, 2019 (Fri) 18: 00-20: 00
[Venue] Sapporo City Hall 1F Lobby (Kita 1-jo Nishi 2-chome, Chuo-ku, Sapporo City)
[Entry Fee] Free
[Capacity] 100 people
[Application deadline] October 15 (Tue) Until it reaches capacity
PDF downloadfile_download