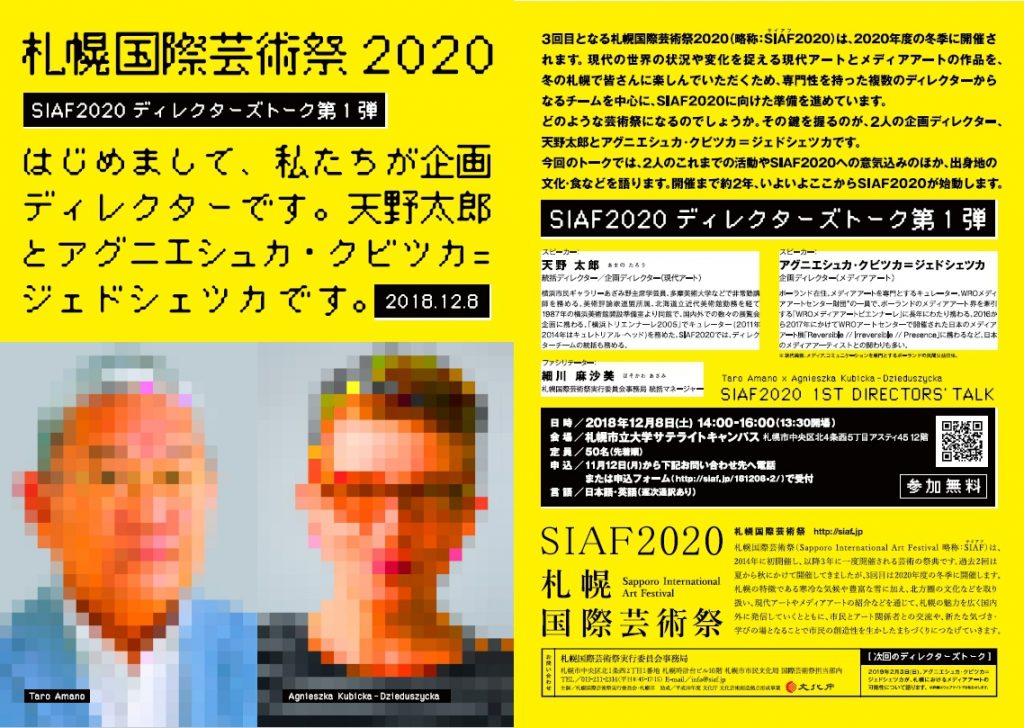 SIAF2020 Director's Talk Part 1
The third Sapporo International Art Festival 2020 (abbreviation: SIAF2020 ) will be held in the winter 2020. 
Our team of directors is now preparing for SIAF2020 in Sapporo in Winter for you to enjoy contemporary art and media artworks that capture the situation and changes in the world in the present day.
What kind of art festival will it be?
The key is the two curatorial directors, Taro Amano and Agnieszka Kubicka- Dzieduszycka. In this talk event, in addition to the enthusiasm of the two for SIAF2020 and so far activities, they talk about culture and food in their hometown.
About two years before the event, SIAF2020 will finally start here.
Date:December 8, 2018 (Sat) 14:00 to 16:00 (Doors open at 13:30)
Venue: Sapporo City University satellite campus (Chuo-ku, Sapporo Kita 4 Jo Nishi 5-chome, Asty 45 12 floor)
Capacity: Application for 70 people *advance application system.
Languages: Japanese and English (with sequential interpretation)
* Reception has been closed due to capacity.
* On the day, we plan to distribute live on Facebook .