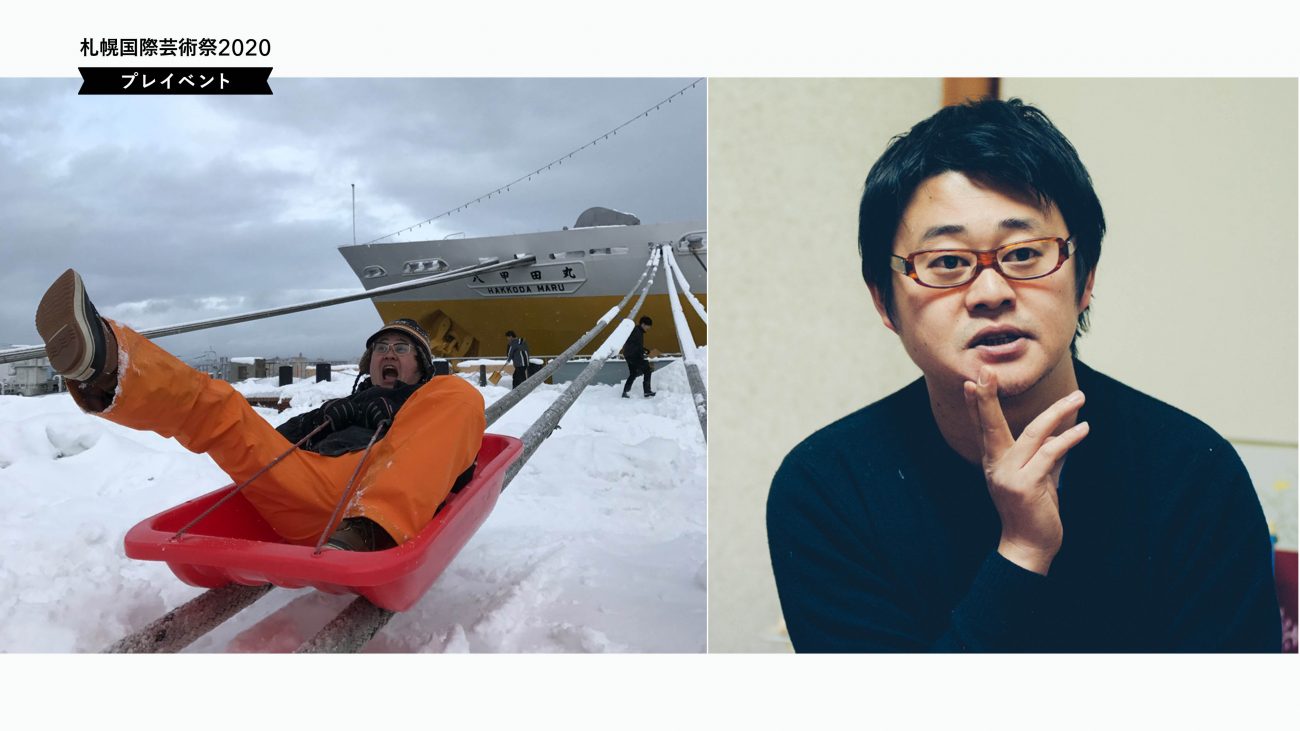 SIAF2020 pre-event
【Canceled】Artist Talk by Tohru Nakazaki "Ski Area in Moere in Winter!?"Artist Talk & Kick-Off Meeting *Only Japanese
* The following events have been canceled due to the effects of the new coronavirus.
We will host a participating artist for SIAF2020, Tohru Nakazaki, and hold "Ski Area in Moere in Winter!? Artist Talk & Kickoff Meeting ". A city in Sapporo where annual snowfall exceeds 5m. Nakazaki will talk with you about what you can do in Moerenuma Park in winter, which is popular as an art park where you can enjoy beautiful snow scenery. People who want to enjoy the process of creating art projects, those who are interested in playing with snow or skiing, those who like Moerenuma Park in winter, those who want to have a lot of fun, why not listen to the talk first? Please come to the venue!
From Tohru Nakazaki
"I create a ski resort in the Moerenuma Park in Winter in SIAF"
Looking for the time being raised such a thing. An attempt to visualize one part of how to associate with snow that cannot be separated in winter life in Sapporo. It's a good idea to consult a variety of people, gathering unexpected ideas and mysterious curiosity to stand up a mysterious place that can't be called a ski resort.
Date / Sunday, February 23, 2020 16: 00-18: 00 (Opening 15:30)
Speaker / Tohru Nakazaki (Participating Artist for SIAF2020)
Kazumi Miyai (Curator of SIAF2020 (in charge of Moerenuma Park))
Venue / Shiryokan( Former Sapporo Court of Appeals) 1F SIAF lounge
capacity / approximately 30 people (free of charge, no application required)
* On February 24 (Mon./holiday), the day after the talk, Nakazaki will walk around Moerenuma Park with participants. If you wish to participate, please prepare warm clothes and gloves and gather at the front entrance of Moerenuma Park glass by 14:00 (participation free, application unnecessary, bad weather cancellation).
In case of cancellation due to bad weather, SIAF will inform you on Twitter.
Inquiries / Sapporo International Art Festival Executive Committee Secretariat
TEL 011-211-2314 E-mail: info@siaf.jp
Inquiries about the walking venue / Moerenuma Park (1-1, Moerenuma Park, Higashi-ku, Sapporo TEL: 011 -790-1231)
---
Tohru Nakazaki
Born in Ibaraki Prefecture in 1976, lives in Ibaraki Prefecture. In 2007, he completed the doctoral program at the Musashino Art University Graduate School of Art and Design. Based in Mito City, Ibaraki Prefecture. Using a natural and gentle technique with the theme of misalignment that occurs in common recognition such as words and images, he develops works without specifying the format, such as works with signs as motifs, performances, images, installations, etc. .Formed "Nadegata Instant Party" from the end of 2006, and also worked as a unit. From the end of 2007, "Yuyu Room (Toru Nakazaki + Mizuki Endo)" was established and engaged in management. Since 2011, has participated in the project FUKUSHIMA! In 2013, "Toru Nakazaki x Aomori City Exhibition: Pursuing Spur", Aomori Public University International Arts Center Aomori (ACAC). "Chase after Spur" was announced at Sapporo International Art Festival 2017.