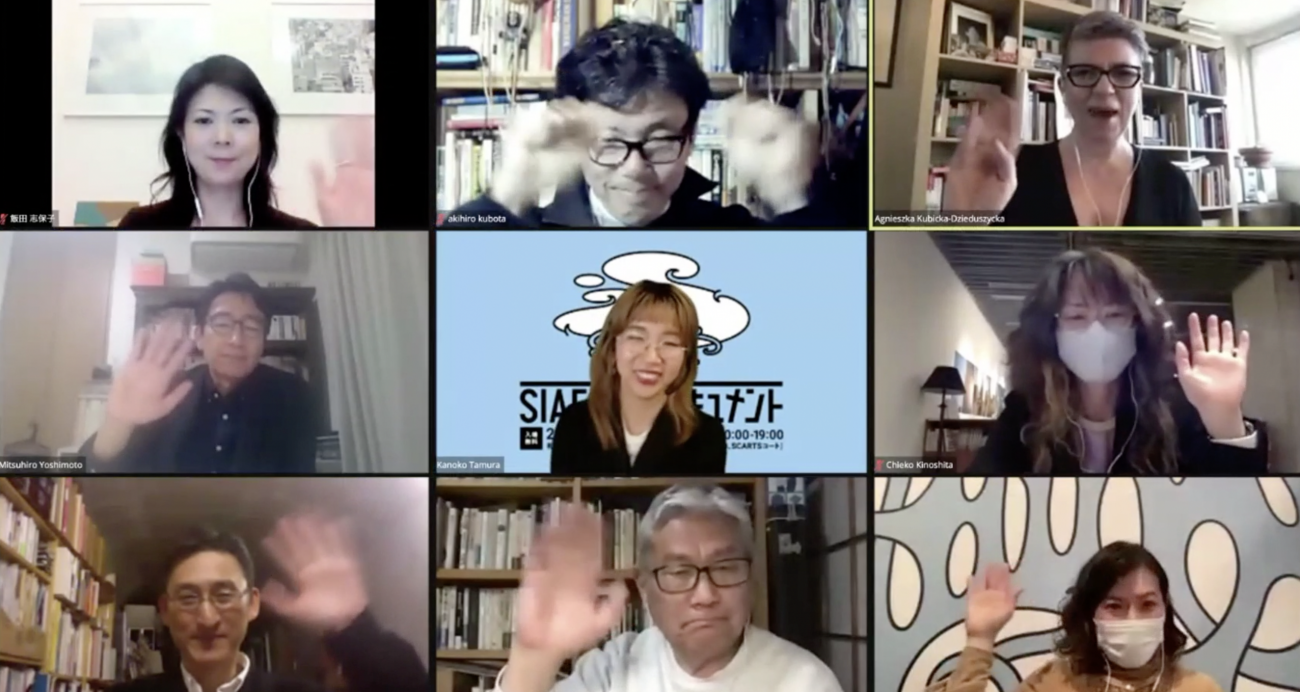 2021.04.21
Closing Talk(English)
The following is an edited transcript of SIAF TV Closing Talk on February 14, 2021.


(Watch the archived video here *Only Japanese) 
---
【Hosokawa】
As the final item on the agenda of "SIAF2020 Plans & Ideas," this talk session wraps up the SIAF TV program that we did over a period of ten days. In addition to the Team of Directors, our guests today are five members of the SIAF Committee that is continuously supporting the Sapporo International Art Festival (SIAF). My name is Asami Hosokawa, I am the chief manager of the SIAF Secretariat, and I will be the moderator today. This is actually not the first time that a talk or other event is held at the end of the SIAF, as we did this twice before at previous editions of the festival.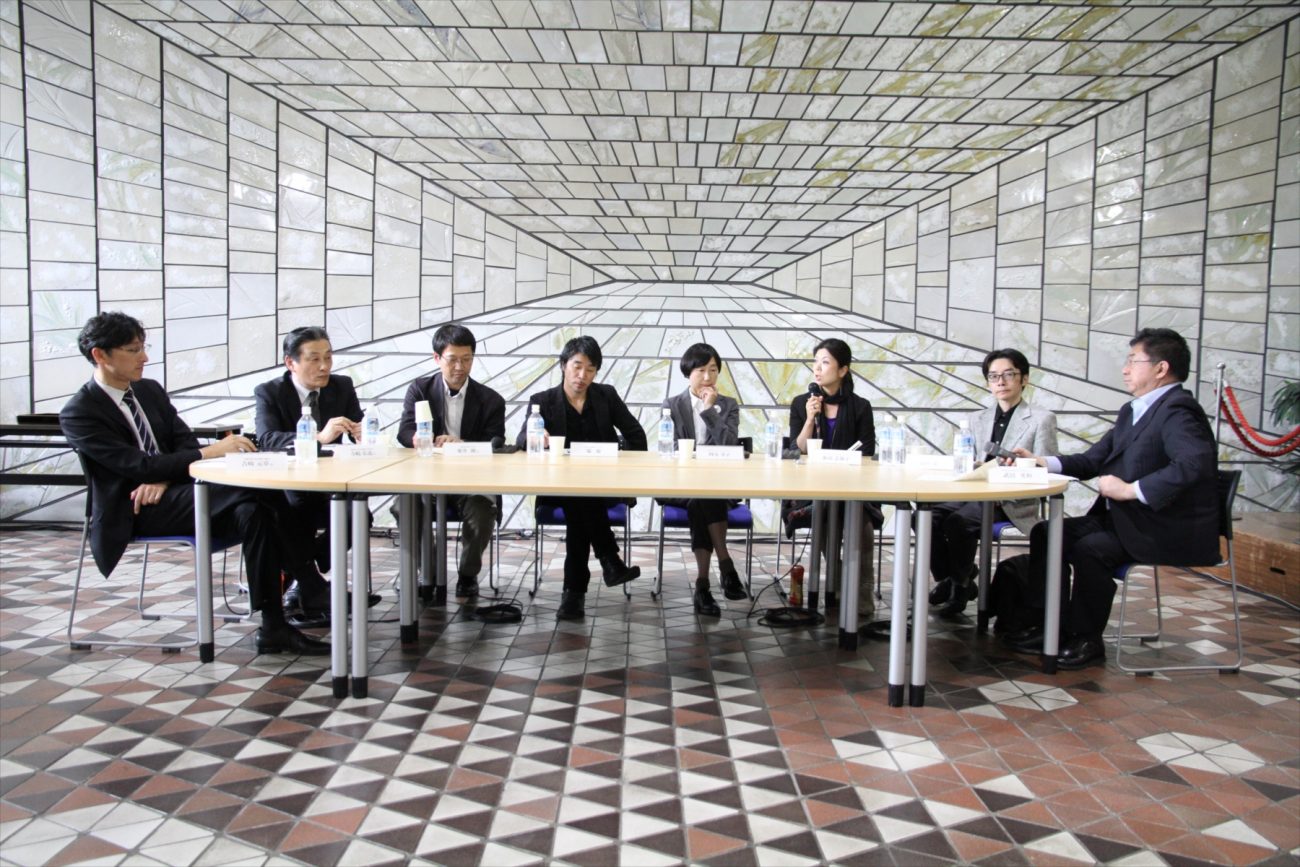 Sapporo International Art Festival 2014 Final Talk | September 28, 2014
(From left to right; Motoaki Yoshizaki, Hiromichi Terashima, Akira Yanai, Satoshi Hata, Yukiko Shikata, Akira Asada, Mitsuhiro Takemura)
On the closing day of SIAF2014, we did a talk event in the lobby of the Sapporo City Hall, to review the festival as a whole. Ms. Iida and Mr. Yoshizaki from the Committee attended that event as well.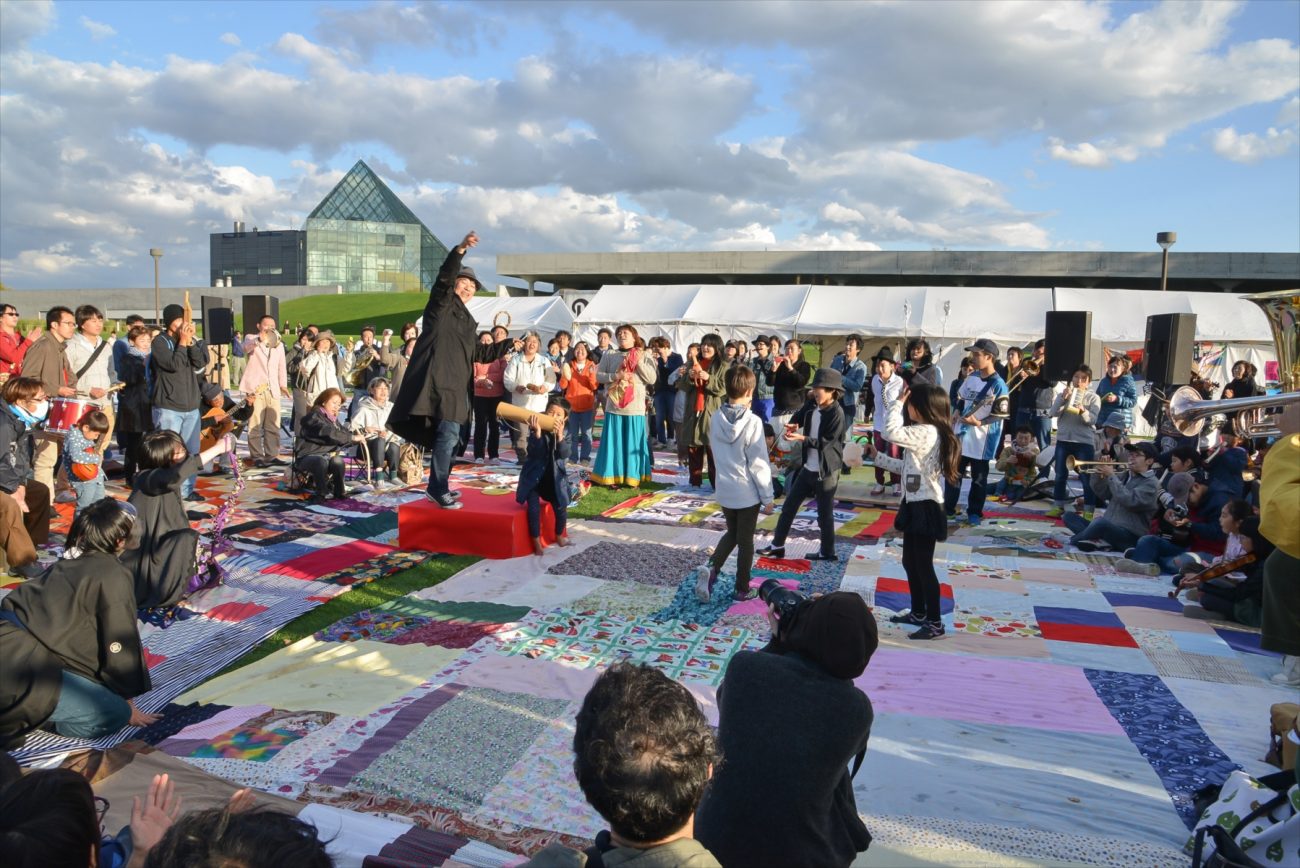 Sapporo International Art Festival 2017 Closing Event "Music & Art Set Free in Moerenuma Park | September 30, 2017
(Middle; Otomo Yoshihide, SIAF2017 Guest Director)
Partly also due to the fact that musician Otomo Yoshihide was the director for SIAF2017, the closing event at the time was more like a music festival that attracted a lot of visitors. We would like to close the "SIAF2020 Plans & Ideas" program (below "P&I") with a talk session that not only recaps the past events, but that also looks into the future to 2023, when the next festival is going to be staged.
【Hosokawa】
First of all, let me introduce once again the Team of Directors: Mr. Taro Amano, Ms. Agnieszka Kubicka-Dzieduszycka, and Ms. Kanoko Tamura.
As the directors were unable to come to Sapporo during the P&I program, they followed the programs online, and I would like to ask them one by one to look back on the program and share their thoughts.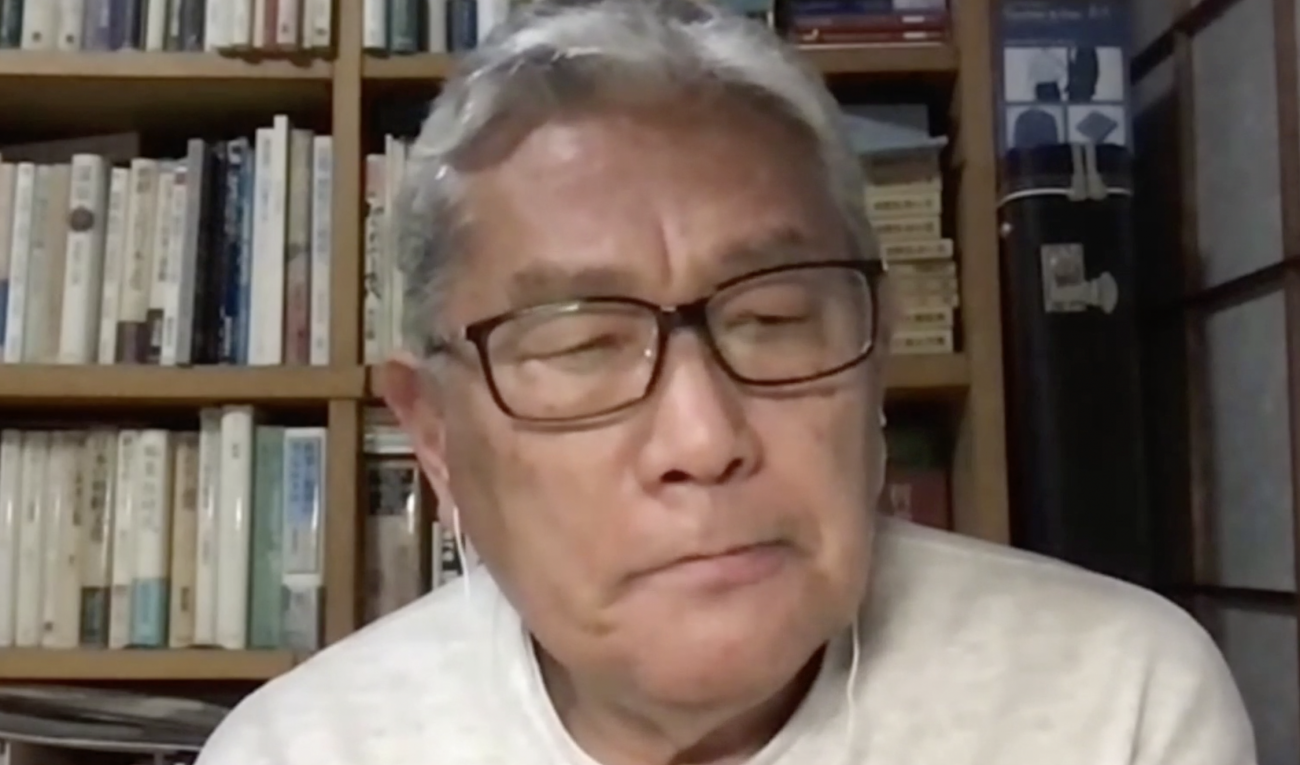 【Amano】
When the cancelation of SIAF2020 was announced in July of last year (2020), I imagine that many people thought that "canceled" meant that there was going to be nothing at all. However, one thing we did was to "deliver" – in one way or another – interviews and other information on the participating artists and their works, using media such as Zoom or Skype that everyone has probably come to use during this pandemic.
At the same time, even though obviously not in an ideal shape, we actually did a showcase at the actual venue, and having accomplished that gave me the feeling that we did "leave some marks." Also in this respect, it was more about the next one, like carrying the torch to the next place rather than caring about the current one.
I think to touch things is definitely a very important aspect for humans, and in this sense, it was really good that we were able to realize the showcase at the Sapporo Cultural Arts Community Center SCARTS.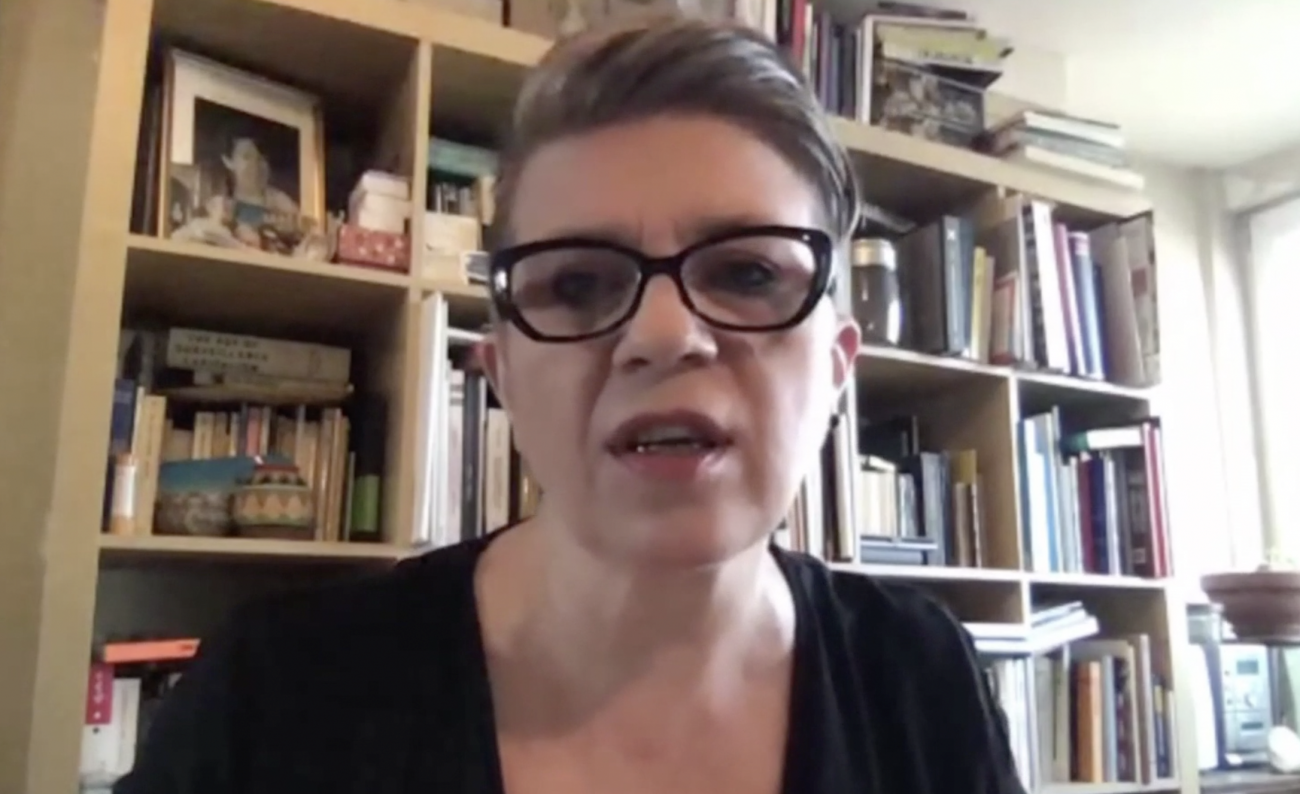 【Agnieszka】
Hello. It's a real pleasure and it's very meaningful to meet the Committee members. They have supported us on the way to this very special SIAF. That proved to be a field for experimentation as to how big exhibitions, organized by the respective cities, have to be prepared for the several changes and the constant flux of events that has sped up to such an extent.
The way we shared the plans and ideas, and all the processes that led to planning the SIAF 2020, shows one possible way to cope with the situation, but it has certainly highlighted the significance of art. So I think that SIAF, as a municipal event, has to keep on going.
【Hosokawa】
Thank you very much. Ms. Tamura, we have come together for this closing talk session at the very end of the daily SIAF TV program, in which you appeared from a remote, virtual studio. While I am also curious to hear your thoughts about that experience, I would like you to explain first what kinds of topics the Team of Directors are planning to discuss in this talk session.
When asking the directors beforehand about their opinions regarding topics for this talk, I heard that the views and ideas they expressed happened to be very similar.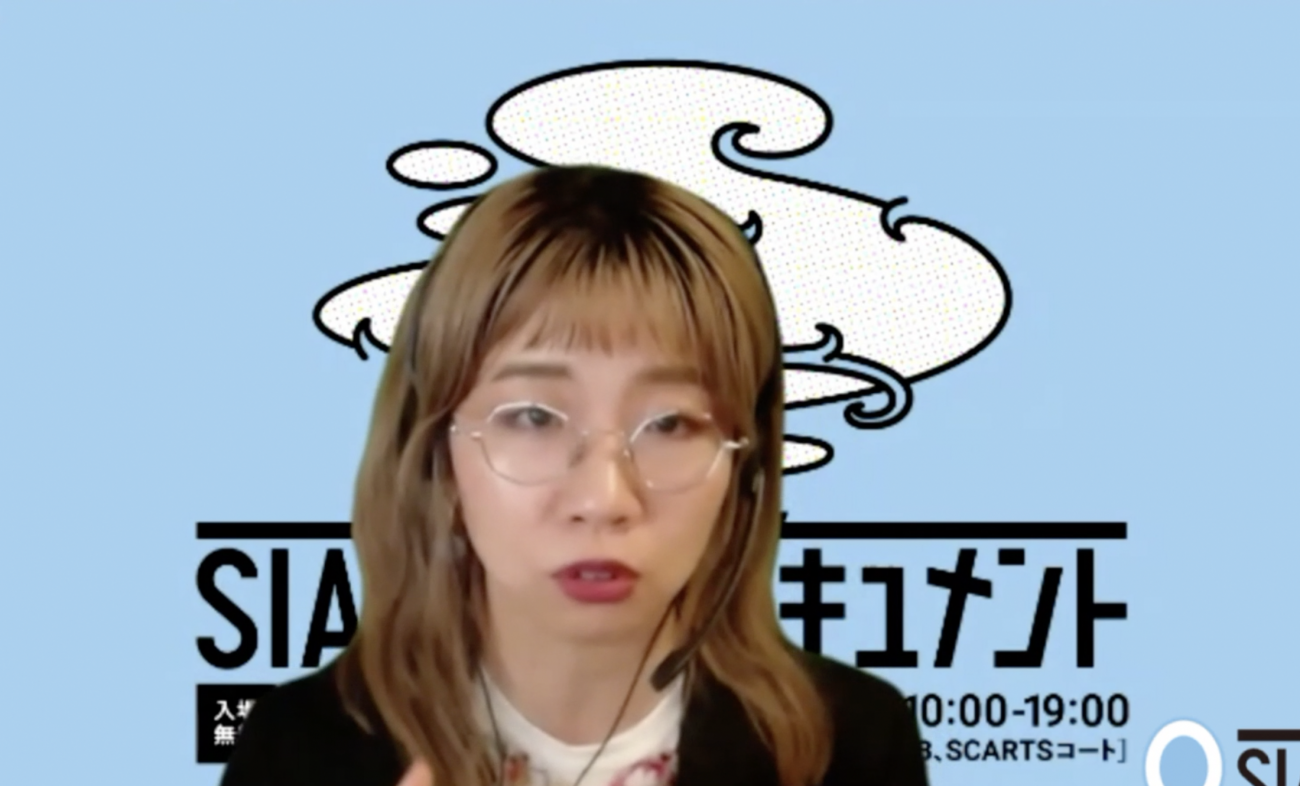 【Tamura】
After the cancellation of SIAF2020 was decided, we had various conversations also with the members of the Committee, regarding what we were supposed to do, and from there we went ahead in a trial-and-error fashion. It was decided that the program close with a talk session, and when the directors got together again to discuss possible topics, one collective opinion that crystallized was that, rather than talking only from our own perspective, we should look back on the whole situation with Covid-19, also including the members of the Committee who have been supporting us all the time, and use the talk session as an opportunity for connecting to future activities rather than just wrapping up past ones.
Also during the ten days of this SIAF TV program, I sensed that, because the cancellation of SIAF2020 had taken away the clear-cut frameworks of physical exhibitions, we were able to think about the next steps with less clearly outlined frames to operate in. We had no such frameworks as "from this point to that point is SIAF2020" or "from here to there is SIAF2023," so in hindsight, I feel that this absence of frames was actually what opened up a whole lot of possibilities for us to consider for 2023.
I look forward to the Committee members' accounts, and their respective individual thoughts and positions during this year with Covid-19, also on topics that are not necessarily related to SIAF.
【Hosokawa】
At this point, let me introduce once again the members of the SIAF Committee. The Committee is made up of five members who represent expert views within their respective fields, and who have been offering continuous support and advice.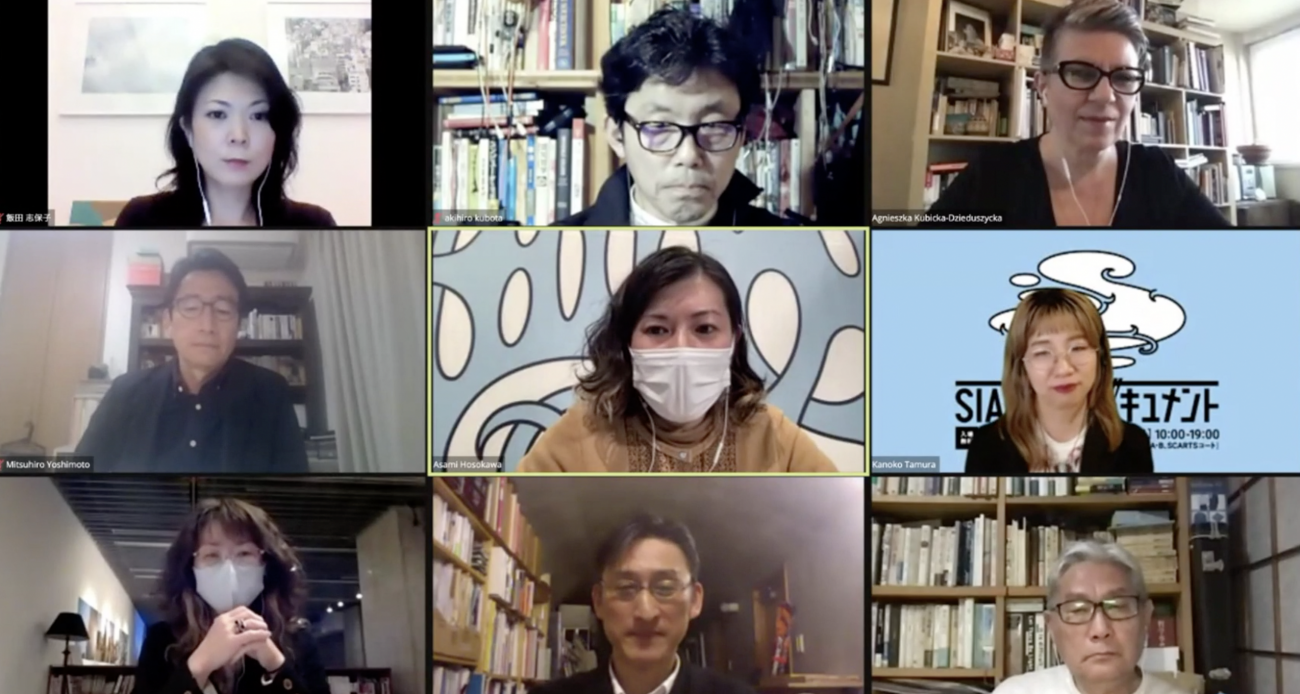 The members are: Shihoko Iida, Independent Curator; Chieko Kinoshita, Associate Professor at the Co-Creation Bureau, Osaka University; Akihiro Kubota, Professor of media art and Director of the Art Archives Center at Tama Art University, and project leader of SIAF Lab; Motoaki Yoshizaki, Program Director at the Sapporo Cultural Arts Community Center, where I am right now; and finally, Mitsuhiro Yoshimoto, Director at the Center for Arts and Culture, NLI Research Institute.
These five members are continuously involved in the planning of the SIAF while offering advice and opinions to the SIAF Secretariat. As our time today is limited, I would like to move ahead with the program while listening to the Committee members' statements.
First I would like to pass the mic to Mr. Kubota. Mr. Kubota, what are your thoughts on the comments from the three directors?
---
【Kubota】
First of all, thank you all for your cooperation. As each of the directors pointed out (and as is also expressed in the subtitle of this program), we were ready to use "any means possible" in the situation we were in, and I think that is really what we did. I believe that it was very important to realize the SIAF2020 Document showcase, SIAF TV, and the WIC2021 exhibition with members of the SIAF Lab, simultaneously in Sapporo.  
【Hosokawa】
How did you feel when you first heard about the cancellation of SIAF2020?
【Kubota】
As I am working at a university, this time of year – the end of the school year – is normally a very busy time with many review meetings and exhibitions, but one year ago, the number of infections had begun to rise around the end of February 2020, so all of the graduation exhibitions in March had already been canceled. I had already begun to realize that not only SIAF, but various other exhibitions probably won't take place, when I got the notice of the SIAF's cancellation, so in a way I was prepared, or at least, it was a situation in which such considerations seemed natural. That's why, upon hearing that the festival was canceled, the first thoughts that crossed my mind were about what we could do with the festival, and what options we had in the first place, including also things like the participating artists' cooperation, given the current situation.
I have been a member of the Committee myself since 2015, so I have experienced SIAF2017 from the inside. For the first and the second edition, such illustrious figures as Ryuichi Sakamoto and Otomo Yoshihide helped with the promotion by shouting out, "We're doing an art festival in Sapporo!"
With Mr. Amano and his collaboration with local museums, Ms. Agnieszka as an international director, and Ms. Tamura, who was chosen from among applicants for the position of Director of Communication Design, the mood – also in the Committee – was dominated by a general eagerness to take new challenges at SIAF2020. For this reason, it is particularly unfortunate that we weren't able to bring those challenges and our efforts to fruition. Just try and imagine what may have happened if we had been able to realize all of our plans.
On the other hand, considering that a truly creative special program, including SIAF2020 Document and SIAF TV, was put together in such a critical situation thanks to the newly assembled Team of Directors, I feel once again how fortunate we were to have all these different people who really helped us realize all that was possible.
【Hosokawa】
Was there anything in the P&I program that particularly caught your attention?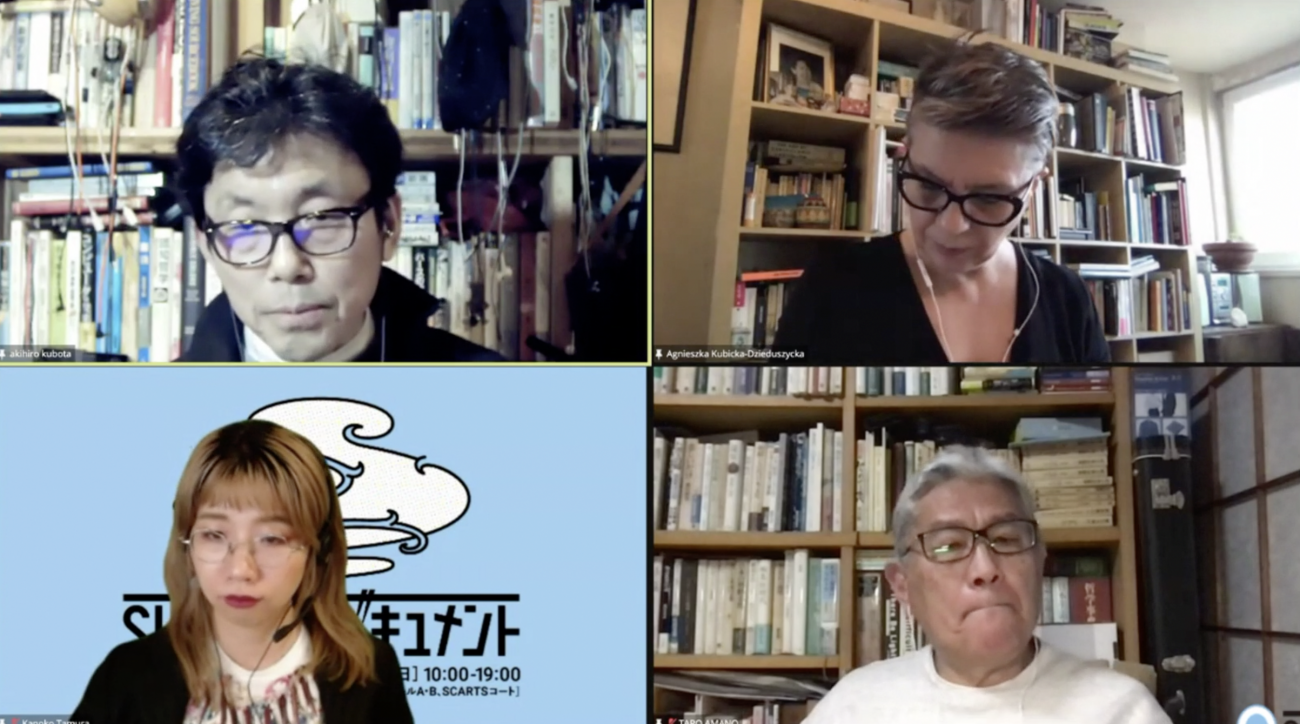 【Kubota】
From the viewpoint of media, there is that expression "post-Internet" that has been discussed as a keyword at various occasions in the past ten or so years, both in media art and in the realm of contemporary art at large. Things like smartphones and Internet have become part of our daily life, and concretely speaking, it is conditions where you only need to have a smartphone to be constantly connected to the Internet, that generate communication, and create reality. The meaning of exhibitions against this kind of backdrop was particularly highlighted by the situation of the canceled festival. Even though it was of course an unexpected turn of events, the fact that P&I was carried out in reality (in post-Internet circumstances) is in my view an extremely important point.
It wasn't only SIAF that was canceled, but all kinds of things in social life were put on halt. This situation meant for many people that there was no other choice but to familiarize with such post-Internet kinds of online operations. That's why I think the improvements in terms of media literacy that have been made in the course of this year are absolutely significant. With this in mind, I think that the P&I program itself was a huge social experiment, a test case for working out new directions for art festivals, and actually also for other festivals in the future.
Also large-scale festivals like Olympic Games and World Expos are going to be staged based on the situation, and regarding art festivals, after the Aichi Triennale 2019, there were others such as the Yokohama Triennale and Saitama Triennale, that tried out various combinations of virtual and physical exhibition formats. I think it will become highly important to inspect and predict how these things will be looked back on in three years' time at SIAF2023.
One thing that I was personally interested in, and that I found very good, was SIAF2020 Matrix. The necessity of having some kind of navigation system for events like art festivals, where large numbers of artworks are exhibited at the same time, has of course been discussed before. I think Matrix went even further, as it seemed to be not only concerned with navigation, but with a new type of curation altogether. The result was an exhibition that was very dynamically curated based on artificial intelligence, so also in this respect, Matrix was a platform for experimentation with new exhibition formats. As there will always be people who are unable to visit an exhibition in a real space, I think Matrix was for many an environment that inspired them to reflect on new forms of appreciating art, while returning to the old question what is "real" in the first place.
I could keep talking about this, but anyway, considering that the realization of exhibitions and art festivals involves not only curational but also design aspects, the program was also an opportunity to explore new forms of design, and how this relates to society. All of this is apparently going to be compiled in a book, and I think it will be imperative to read that carefully and reflect on the contents.
【Hosokawa】
Thank you very much. Responding to the comment on SIAF2020 Matrix, I would like to ask the director, Ms. Agnieszka, to share her thoughts.
【Agnieszka】
Thank you Mr. Kubota for these comments. I couldn't agree more regarding the importance of working together. Finding new ways of delivering art into society, and being in meaningful exchange with the artists, were very important during the consideration, and also after deciding on the cancellation.
But this being together, and considering together, also included – to some extent of course – the citizens of Sapporo. And this is very important, to think of an art festival that is capable of creating a temporary alliance, or a range of temporary alliances, around the festival, the exhibitions, and the city.
And I think that these activities have been carried out at least since SIAF2017, with the growing significance of the SIAF Lounge and SIAF Lab at the Shiryokan. All of these activities really merged in this edition, for which we planned an intensive program of art mediation, and here I come to the point of curation that Mr. Kubota addressed in his comment.
For this edition, we decided to be deliberately very close to the audience, next to them, around the visitors. But then came these travel restrictions connected to COVID-19, which would have made these meetings impossible, and that was ultimately also why I have accepted the decision to cancel the events. Our planned approach was to be very close to the audience, but as we saw, such travels would have been restricted, or not possible at all.

So, this attitude in curation to be close to the audience, has finally resulted in the idea of sharing with the audience what we have planned together with the artist, through these archives of ideas and sketches. And finally, this attitude resulted also in creating the Matrix site as a special experience for this unusual condition. I was really very glad that this idea was accepted and supported, and that you were part of these considerations as to what we were supposed to do after the cancellation. So I'm really grateful for the opportunity to reach out to the audience in this special way, with the special website.
As a final comment, I think it was especially important for SIAF to focus largely on media art, also because of the status of the city of Sapporo as "Creative City of Media Arts." I thought it was really important to use these technologies that the artists in their works also have been referring to, and show what kind of art experience can they provide. Or even, not only art experience, but also the experience of ideas related to artworks, because it is also important to remember that SIAF2020 Matrix is not an online exhibition.
So I was trying to really stress that there was no exhibition – also the SIAF Document now, which I appreciate a lot for allowing us to share these documents while taking them out of the internet, and drag people away from their screens and make them meet in some physical place. It is a kind of showcase, a kind of display, but that was certainly not an art exhibition. And I think having the richness of the archives, at the same time we are still confronted with the lack of the art itself. I think this is the new SIAF2020 experience that the Matrix site provides. Thank you very much.
【Hosokawa】
Thank you, Ms. Agnieszka. As Mr. Kubota agreed to join us in the middle of his own preparations for an exhibition, let me use this opportunity to share some basic information on that exhibition.
2021 A Space Odyssey Monolith
Memory as Virus – Beyond the New Dark Age
Time: February 19 – April 25, 2021
Place: GYRE GALLERY (GYRE 3F at 5-10-1 Jingumae, Shibuya-ku, Tokyo)
https://gyre-omotesando.com/artandgallery/2021-a-space-odyssey/
If you are in Tokyo, I recommend to pay a visit. Thank you very much, Mr. Kubota.
Now let me pass the mic to Ms. Shihoko Iida. Would you like to say something about the Team of Directors?
---
【Iida】
Under normal circumstances, I think this event would have turned out like some sort of class reunion in Sapporo, where we had the chance to get together not only with the three directors, but with all those who are now participating via comments in a chatroom. Even though it is really sad that we cannot raise our glasses together and celebrate the opening of SIAF, considering the situation of the entire organization that was somewhat resuscitated after the cancellation, the various, highly motivated programs that were subsequently put together, are certainly a remarkable achievement. Thank you very much indeed.
【Hosokawa】
When I got in touch with the Committee to tell them about the plan to cancel the festival, it was Ms. Iida who advised right away that we should first inform the artists, the directors and curators, and everyone else involved in the preparations, in a careful and supportive fashion, which we then did from the administrative side. Ms. Iida, what exactly was the idea that prompted you to give that advice?
【Iida】
I have been a member of the Committee since 2015, and as some of you may know, I was involved in the making of the first SIAF in 2014 as an associate curator. Like everyone else who has been engaged with the festival as a member of the organizing staff from the very beginning, I have been involved with SIAF since 2012, so it's already eight, nine years now. In that sense, there was always the question how, from the Committee's position, we would be able to maintain the infrastructure of SIAF, and the environments for everyone who is involved with art and culture in one form or another.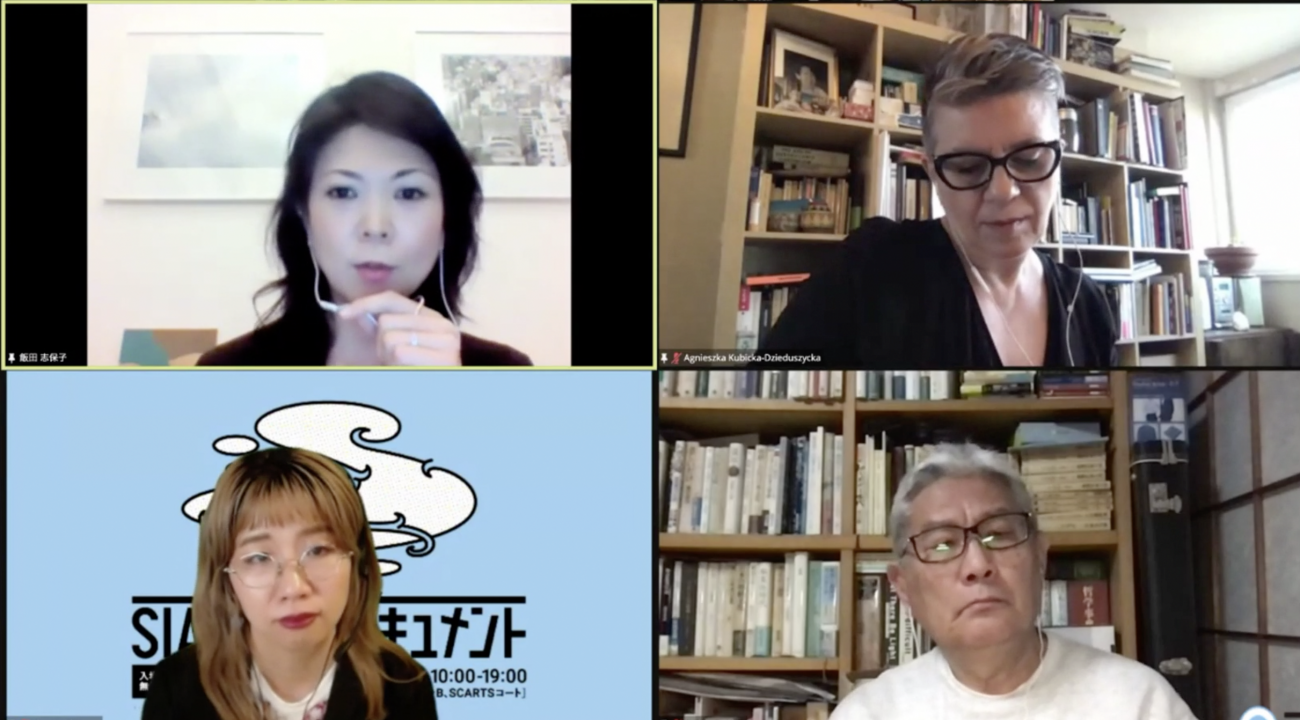 At the same time, I am a curator, which means that I am on the practicing side. The exhibition overseas that I am presently preparing for, was originally scheduled to open in October last year, and would already have closed now, but it was rescheduled four times, and considering the current situation with the show eventually pushed back almost two years, I belong to the parties concerned. I normally don't say things like "I understand that," or "I know what you're talking about" lightly, but as I perfectly understand how the cancellation made everyone feel, I made that suggestion based on my understanding that the issues of the artists who are rendered unable to realize the ideas they have come up with; the three directors who have worked out an entire program based on a certain theme; and the people in the administrative office, are not to be thought of as someone else's problems.
In addition, SIAF is a festival that is open to the people of Sapporo, and of course also in a much broader sense to the people of Hokkaido and beyond, so in order to be able to claim that "SIAF is for the citizens of Sapporo an important part of the cultural infrastructure" and "Sapporo needs SIAF just like humans need art to live with dignity" also in the future, it was my desire to make sure that especially such freelance workers and employees as artists, curators, coordinators and technicians can operate in proper environments while being engaged in the festival.
From the viewpoint of the Committee, we were primarily concerned about such questions as whether artists' fees can be paid (even in the case of cancellation), how the contracts are handled, and how the next team will be assembled, simply because we felt that environments and infrastructures are definitely essential in order for SIAF to continue to function as an important base to support art in Sapporo even after the next edition.
【Hosokawa】
Thank you very much. When the possibility of cancellation was brought up and shared with the Committee, we were in the middle of discussing how things may develop, both on the administrative side and from the viewpoint of the directors. Today's event marks the end of the "SIAF2020 Plans & Ideas" program that was put together as a result, and I would like to know what you were thinking of it while watching from the distance.

【Iida】
I thought it was a very fulfilling program. There is an archive of SIAF TV footage, and I'm watching that quite a lot. I like how it covers a wide range of subjects – everything from somewhat private and potentially exclusive insider topics, to things that broad audiences in and outside Japan can enjoy. What I realized was that, in the future, this archive will probably serve as an important source that specialists can refer to for their research, when questions about the whereabouts of Ainu artists for example come up. In this sense, I keep watching the program while being aware of its substantiality.
【Amano】
As has been mentioned before, when discussing possible ways of moving ahead, also for other international art events I believe, in the end it all comes down to the "human" factor. So in my view, for the sake of continuity, one thing that is immensely important, is to avoid such things as changing the entire team for each new edition of a festival. This goes of course also for conditions given to the participating artists, and members of the staff alike. When talking to some artists yesterday, they all pointed out how the support of artists had suddenly intensified once this program had taken off. While thoroughly maintaining such mechanisms, with things like human resources and environments, should be self-evident, when we look at the situation around Japan, the circumstances are rather tough, so in this sense, I am very thankful that Ms. Iida's attention was turned toward these things at this occasion.
【Iida】
In terms of maintaining the infrastructure and environments of SIAF, I think it was very significant that Mr. Amano, originally a member of the Committee, was appointed as the Director in Chief for SIAF2020. Focusing on subjects like snow or Ainu artists, he does things that can only be done in Sapporo, or that assume a whole new meaning when done here. The program of SIAF2014 included a kamuinomi (Ainu ritual) performance, and such things have been important to us from the very beginning. When Mr. Amano, someone with a deep relationship to Hokkaido, was involved in forming the team, it meant for us that we were now able to access areas that only local curators and artists had the keys to, and thereby establish connections on a deeper level.
When Mr. Amano took office as a director, I sensed an eagerness to look carefully at issues related to the Ainu people, media art, and Ainu art utilizing media, without separating these areas, and I would like to stress these things as a major achievement for the benefit of future editions of SIAF.
【Amano】
Thank you. One thing that I personally realized in the past couple of years is that, whenever there is something that you're not really familiar with, it's always best to ask someone who is. It's a matter of course though. When an artist wants to investigate into something, it is by consulting those who know about that particular matter, hooking up with such people, that you can establish a connection with the local people.

While being a program that is administered by the City of Sapporo, one idea behind SIAF is to create connections across the greater area of Hokkaido. That's because, there are people in every region that are concerned and thus familiar with specific matters. These things ultimately connect, and in my view, a situation where lots of people and regions join the ranks not only of hosts and sponsors of the exhibition, but also the larger group of supporters, is absolutely desirable, if not ideal. As a matter of course, not all of the artworks are like that. However, I do think that such kinds of international art events are good opportunities for mobilizing local human resources, or better, for demonstrating that there exists serious potential in each region.
【Iida】
To close, let me just add that I really enjoyed the appearances of Brook Andrew and Mayunkiki in today's SIAF TV program. Even though listening to people who know what they are talking about is a self-evident thing, I believe that such kind of activity means to create connections in Sapporo, in Hokkaido, and ultimately also on an international level.
As also Mr. Andrew pointed out, Mayunkiki's continuous involvement, Mr. Amano's "comeback" of sorts, and Ms. Agnieszka role expanding the portion of media art – all these different people getting together and probing into local maters, is a style that I hope we will be able to maintain, as this will ultimately help establish connections on a global scale.
【Hosokawa】
Thank you very much. With Mr. Brook Andrew, who joined us at short notice today, and whose comments Ms. Tamura was so kind to translate for us, it was a very satisfying conversation. I encourage everyone to check the archived material. Thank you very much, Ms. Iida.
---
Now I would like to pass the mic to Mr. Yoshimoto.
【Yoshimoto】
Yes, thank you. One thing that I felt when looking at the proofs of "SIAF2020 Index," which is scheduled for publication at the end of March, and that I also mentioned in my manuscript, is that, while the exhibitions of SIAF2020 were of course canceled, the entire SIAF200 program is condensed in Index, so to me it felt as if SIAF2020 as a whole, including the canceled exhibitions, actually happened.
There are so many things that were done online, and frankly speaking, I have only seen a tiny fraction of it, but when visiting the website and seeing the three directors' and the administrative staff's determination, and especially also the pains and troubles the latter went through after canceling the exhibition, I see a great deal of enthusiasm in how all of them did as much as the situation permitted to put some programs together.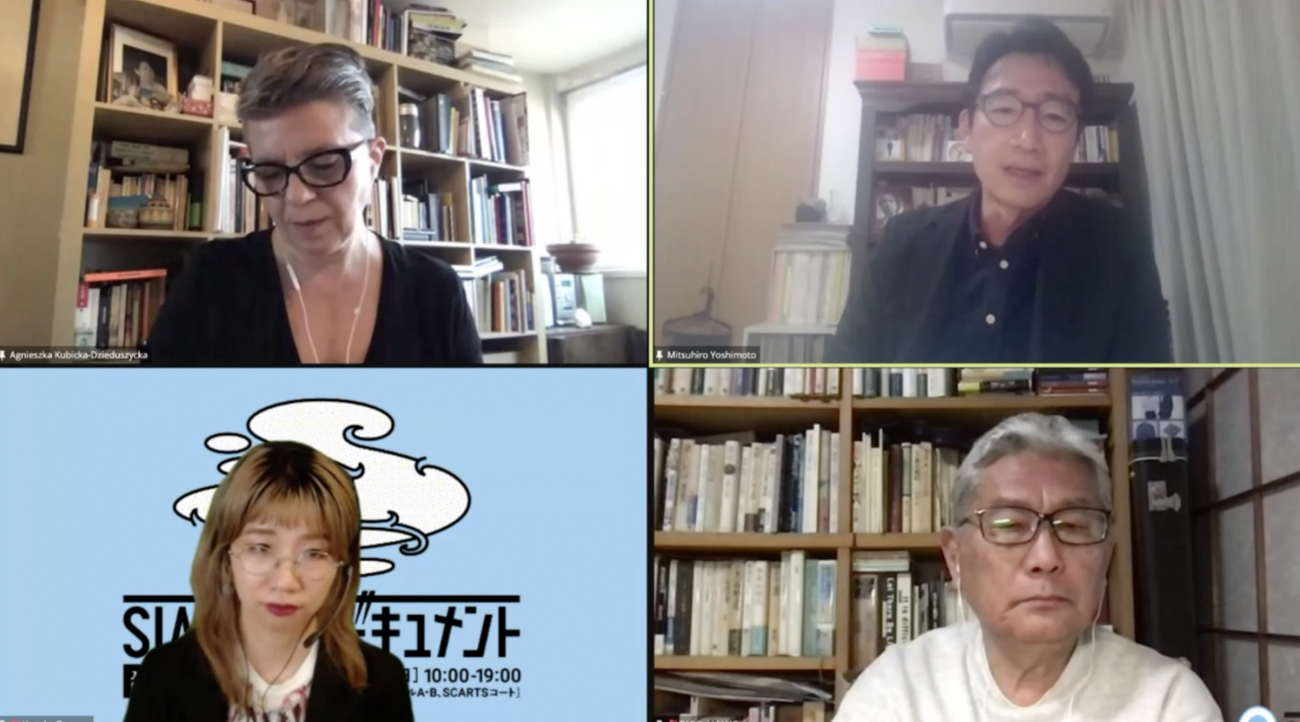 "Matrix" is magnificent as well. Once you start watching, there are so many new things to discover that it is difficult to stop, and time really flies while you're browsing. Ms. Tamura's voice in the art mediation program had a profoundly healing effect, and I think every viewer made his or her own set of experiences during the program. So, once again, while it was unfortunate that the exhibition had to be called off, my impression is that SIAF2020 absolutely did take place in Index and other forms on the Internet.
【Hosokawa】
Thank you very much. Could you please also say a few things regarding the role of art in society against the backdrop of Covid-19?
【Yoshimoto】
I think everyone of us has been reflecting on all kinds of things since the beginning of the pandemic.
The world after Covid-19 will probably be a very different place, and among the numerous discussions on the matter, one that particularly struck a chord with me was a comment from the historian and author of Sapience: A Brief History of Humankind, Yuval Noah Harari: "If this epidemic results in greater disunity and mistrust among humans, it will be the virus's greatest victory. In contrast, if the epidemic results in closer global cooperation, it will be a victory not only against the coronavirus, but against all future pathogens."   

According to my perception of recent history, I think the second half of the 20th century was a time that was characterized by the advance of globalism. Upon entering the new century, we have seen rapidly progressing segmentation, as major countries around the world developed nationalist inclinations that resulted in mounting conflicts between China and the US, armament in Russia, and Britain leaving the EU among others. The ideas and principles of neoliberalism spread around the world, and caused the gap between winners and losers, the wealthy and the not so wealthy, to grow even wider. That was when Covid-19 appeared on the scene. In my view, the pandemic was clearly accelerated by the effects of globalism.
There are various thoughts as to what the age after 2020 and Covid-19 may look like, and it appears to me that we are at a pivotal point in time where the decision is made whether the world will move further toward segmentation, or if we will be able to restore trust and solidarity across national borders and ethnic background. It is a point at which Joe Biden replaced Donald Trump as President of the USA, a nation that once used to demonstrate global leadership, and aimed to bring the world together. But the times have changed. Brexit has in a way accelerated the trend of segmentation, and in this sense, to me it seems highly ironical that the British Premier Boris Johnson – one of the world leaders who have been pushing for divorce – wound up in a rather dangerous situation when he got infected with Covid-19 himself.
Now I would like to introduce the activities of the World Cities Culture Forum, a cultural network organization of world cities, which I have been involved with since the worldwide spread of Covid-19 began about one year ago.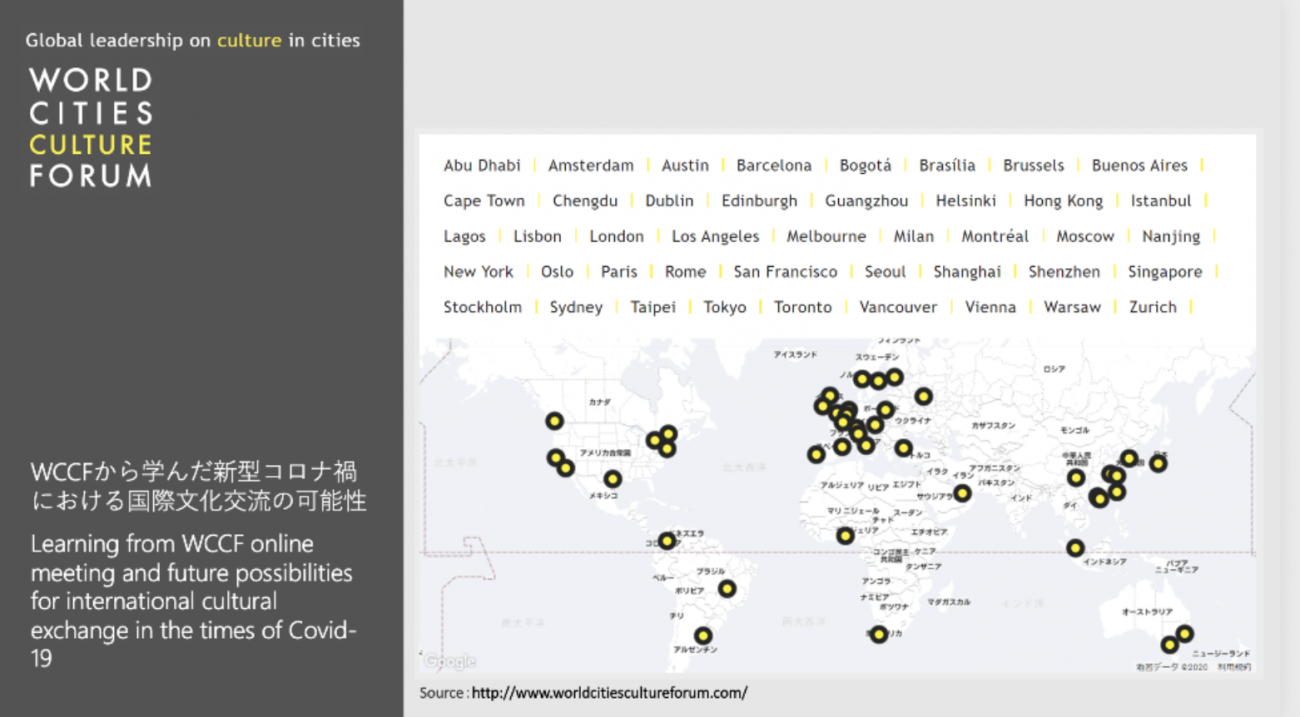 This network of international cities was launched at the time of the Olympic Games in London in 2012, with the aim to examine culture in urban areas, and promote the importance of art. There is an annual conference, and the most recent one was scheduled to be held in Milan in the fall of 2020.
But as you all know, Milan and other parts in northern Italy, and Europe at large, were among the first places that saw a rapid spread of Covid-19, so I was already anticipating that the conference in 2020 wasn't going to happen. That was when, in late February 2020, the organization's chair sent out a note to the members in which she encouraged us to do the conference via Zoom, reasoning that it was a time when solidarity was more important than ever. The international conference eventually took place via Zoom, divided into several sessions in intervals of two weeks, some of which I attended.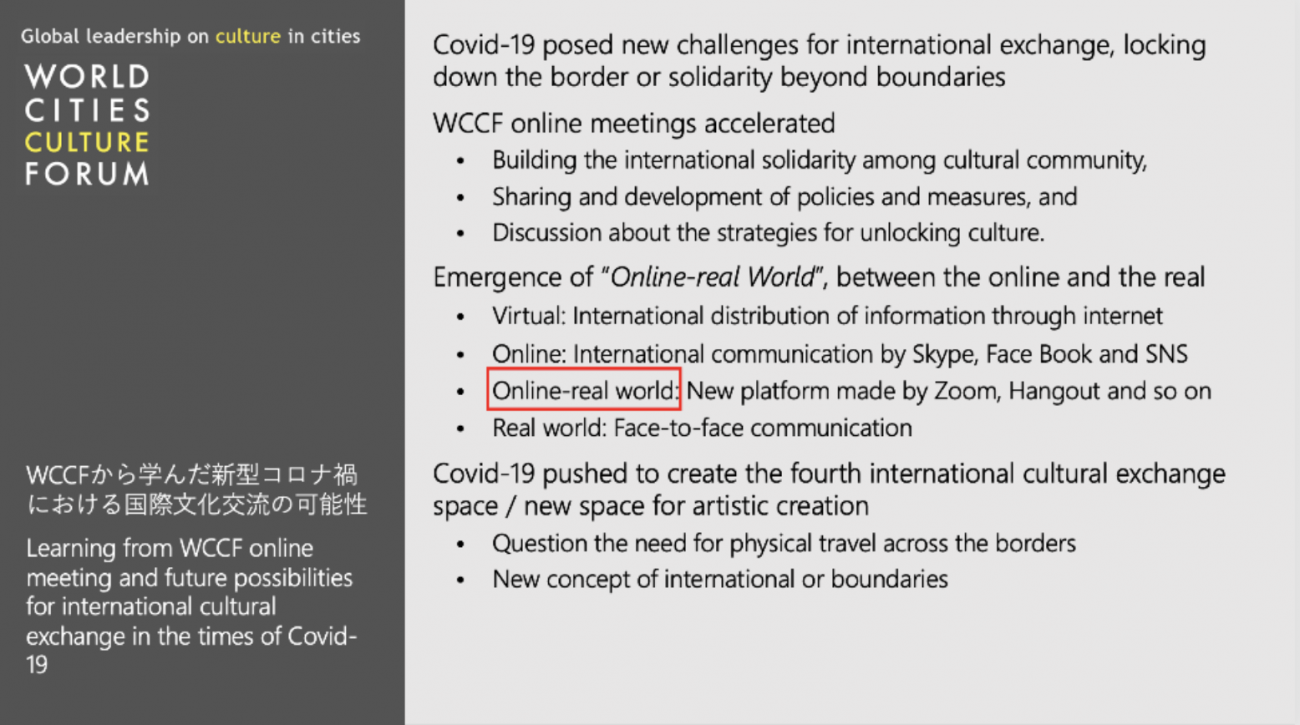 There is one thing that occurred to me during these sessions. Up to now, the WCCF has been taking place once a year in the form of a conference in a real space, and I felt that, through the experience of attending bi-weekly online meetings, I had noticed a variety of things that I hadn't noticed in international meetings in physical spaces. The expression "online-real world" communicates particularly well how the online environment seemed to take on a real kind of notion in the course of those bi-weekly Zoom meetings.
There is "virtual," "online" and "real," and I felt how, somewhere in between, there was that so-called "online-real world" that was set up as an area, a separate space of sorts, for international cultural exchange. To me it seemed like an entirely new environment, not only for international cultural exchange, but also as a new platform for artistic practice beyond the boundaries of time and physical distance. And that premonition of new possibilities was further amplified when I saw the SIAF2020 program unfold on the Internet.
The ongoing pandemic will probably bring along significant changes also in the format of art festivals before and after Covid-19. Regarding international art festivals in Japan, including also SIAF, there has been a lot of activity since 2010, which also overlapped with the period in which the role of art began to expand significantly.
Against this backdrop, art has assumed a diverse range of values not only in the realm of art itself, but also in fields like education, welfare, regional revitalization, and economy/industry, with things like intrinsic value, economic value, social value, regional value, etc.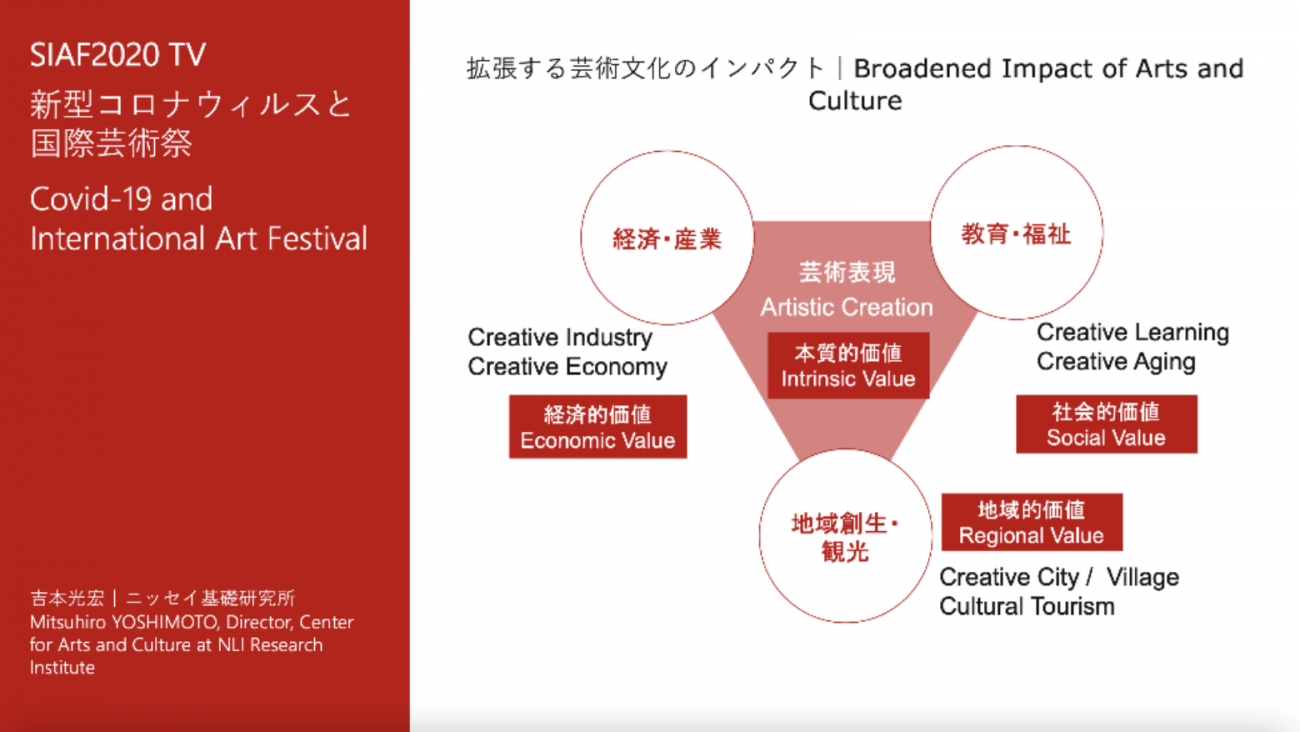 In the case of art festivals in Japan, there seems to be an emphasis on social and regional value, things like urban development, much rather than intrinsic value.
As regional revitalization is one central goal also of SIAF, I think the festival has come to be evaluated mainly by such standards. Through the outbreak of Covid-19, things like staging festivals with lots of people coming in from the outside and invigorating the respective area (also economically), are perhaps no longer possible.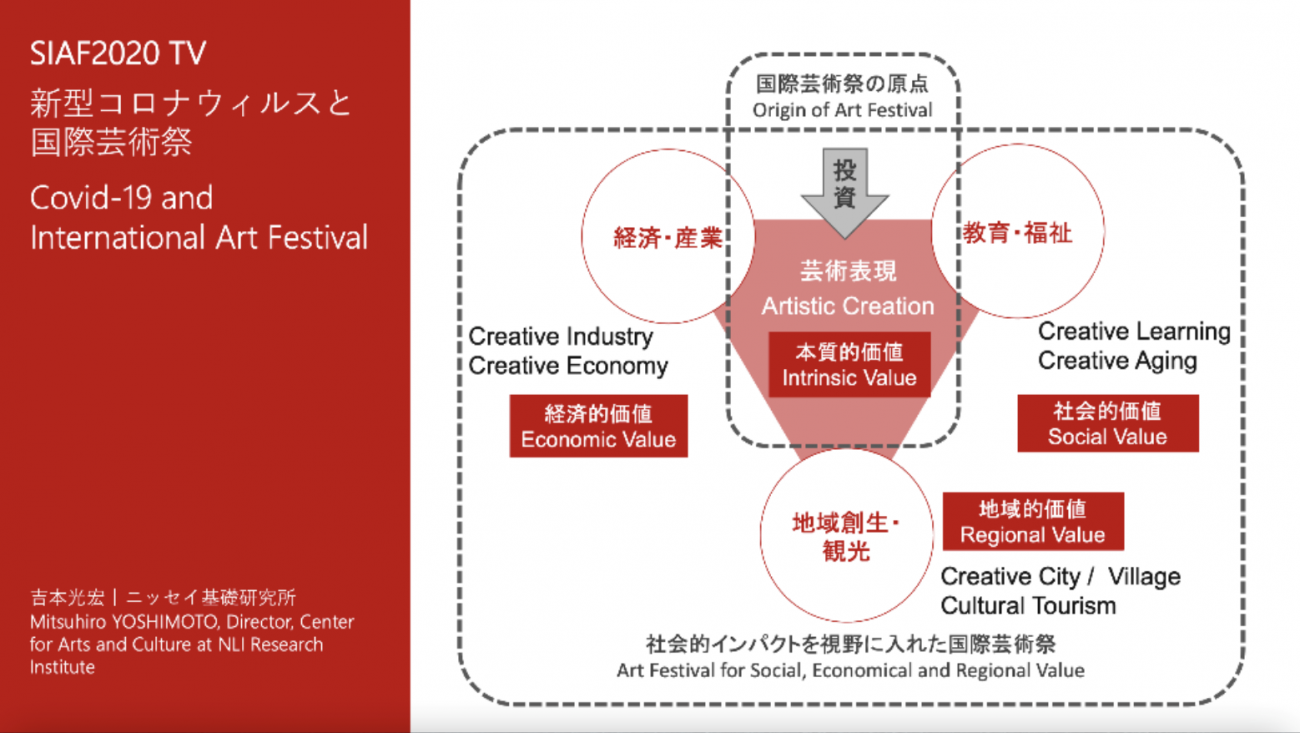 I believe that the origins, or the original meaning of an art festival, is to create opportunities for pursuing/encountering new artistic activities, so rather than social, regional or economic value, we should go back to the original question what the intrinsic value of an international art festival is, and organize such festivals with a focus on their intrinsic value.
SIAF2020 is standing somewhere at a halfway point, and when listening to what the artists have to say in interviews etc., I realized just how much Covid-19 is affecting the thoughts of artists, and the way they approach their creative work. Whether the next SIAF in 2023 can be a "post-Covid" art festival remains to be seen, but anyway, I hope it will be a festival that inspires people to explore new forms of art in the post-corona age.
【Hosokawa】
Thank you very much. Ms. Agnieszka, would you like to comment on that?
【Agnieszka】
Thank you Mr. Yoshimoto for these remarks. Regarding your first comment, where you were talking about this special passion that you see among the team and people engaged in SIAF in Sapporo, I certainly share this feeling. There is a lot of passion, and with this passion, the question about the future role of the city or community in supporting the festival, is put in the right context I would say.
Among the several questions you addressed, the most important is for sure how the new normal will look like after this pandemic. We don't know for sure what those post-COVID times will offer us, also in terms of being together and traveling, which to me now, after almost a year being at home and not traveling for work, seems to be something that is obviously an important and serious obstacle.
You mentioned – and I'm glad for it – that the essence of SIAF 2020 was exhibited across all the programs and all the platforms that we have developed. So even though we couldn't present the art itself, the intrinsic value of art, of artistic expression itself, was somehow saved. I guess that these travel restrictions really affected also this very core of the art festival – I don't have to say what has been lacking I think. So for sure, this is something that we have to take into consideration when planning the next SIAF. Also because we have to accept different limitations, as COVID-19 showed. This is one of the troubles that are shaking our planet, and there might be many other reasons that may limit our actions when it comes to organizing such events as SIAF and exhibitions.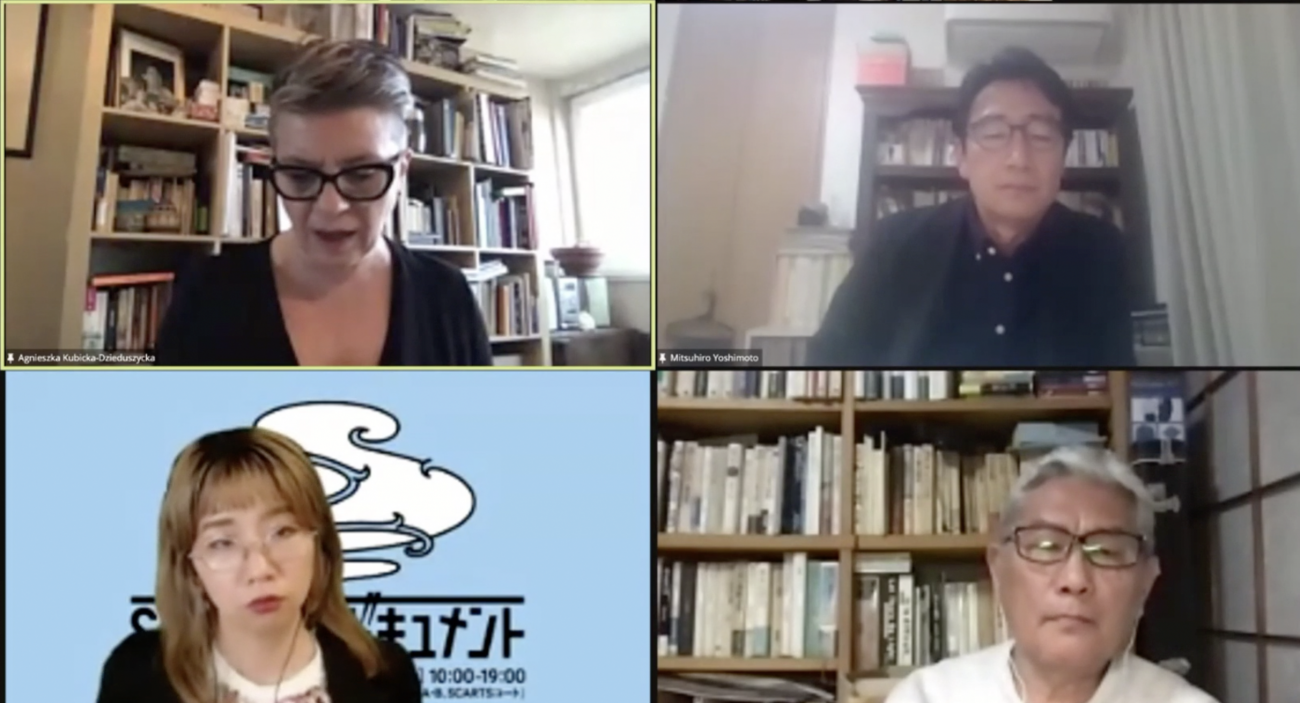 So there are many challenges. There is the challenge of how to maintain the unity for a better international cooperation, and another challenge is how to be more sustainable when it comes to using resources, also regarding the carbon footprint we leave. Another challenge is how to take care of those regional social economic values that are also connected with art, as you mentioned. There are that many challenges, if not more.
I also think that we entered this path of art mediation at this SIAF, or in other words, the path of audience development. To work with several types of audiences is what we recognized this time, and also the current SIAF Document display is oriented at new audiences. So we learned that we need several platforms, I would say, several programs to address these different audiences.
For me, one of the resulting thoughts is that a festival like SIAF, being so active after its 3rd edition, most probably needs the support of a contemporary art institution in that city. Because I would say the festival organizers somewhat trespassed, went beyond the role of "only" being festival organizers, if you look at the activities carried out between SIAF2017 and SIAF2020 alone. This may be a direction that could inspire thoughts about founding a permanent institution dealing with contemporary art and media art in Sapporo.
But that institution would have to be considered in a new way, as an institution of social change, and an institution that would be capable of changing its form. It's also – but maybe not so much – about a building and a collection. And I think the lack of contemporary art collections in Sapporo has become evident in a way, especially with the approach to working with the Hokkaido MoMA collection. I think there are lots of challenges, as I just pointed out. I may have a chance to speak more about this in my closing remarks, but for now, thank you Mr. Yoshimoto for your comments.
【Hosokawa】
Thank you very much. Thank you also to Mr. Yoshimoto for schematizing and explaining the subject of "culture and art festivals after Covid-19," which Ms. Tamura mentioned in the beginning as a topic that was proposed by the directors, regardless of the little time you had to prepare.
【Yoshimoto】
Thank you very much. Can I just say one more thing?
【Hosokawa】
Yes, please.
【Yoshimoto】
In 2023, although probably not entirely, I think Covid-19 is going to disappear. The experience of Covid-19 is something that certainly challenged the very foundations of our established value systems, and regarding the festival that will be held in 2023, I would like to see organizers and artists alike approaching the event also with the intention to remind us of "what 2020 and Covid-19 was all about."
【Hosokawa】
Yes, it will certainly be impossible to plan the next festival without taking into account Covid-19 and its effects, and I think the concept for the next edition will be based on such considerations. Thank you very much, we will continue to count on your advice.   
Now let me pass the mic to Ms. Kinoshita.
---
【Kinoshita】
First of all, thank you to all of you for keeping things up and running to this day. I would also like to thank Mr. Amano, Ms. Agnieszka, Ms. Tamura, all of the 49 participating artists, members of the staff, the people at the museum, and everyone else involved, for facing the challenge of getting creative once they had gone through the hardships that making a tough decision comes with. It is a great honor for me to be able to join this conversation in this online form.
【Hosokawa】
I heard that you have been doing various online programs as part of the "Creative Island Nakanoshima" project yourself, around the same time we did SIAF TV.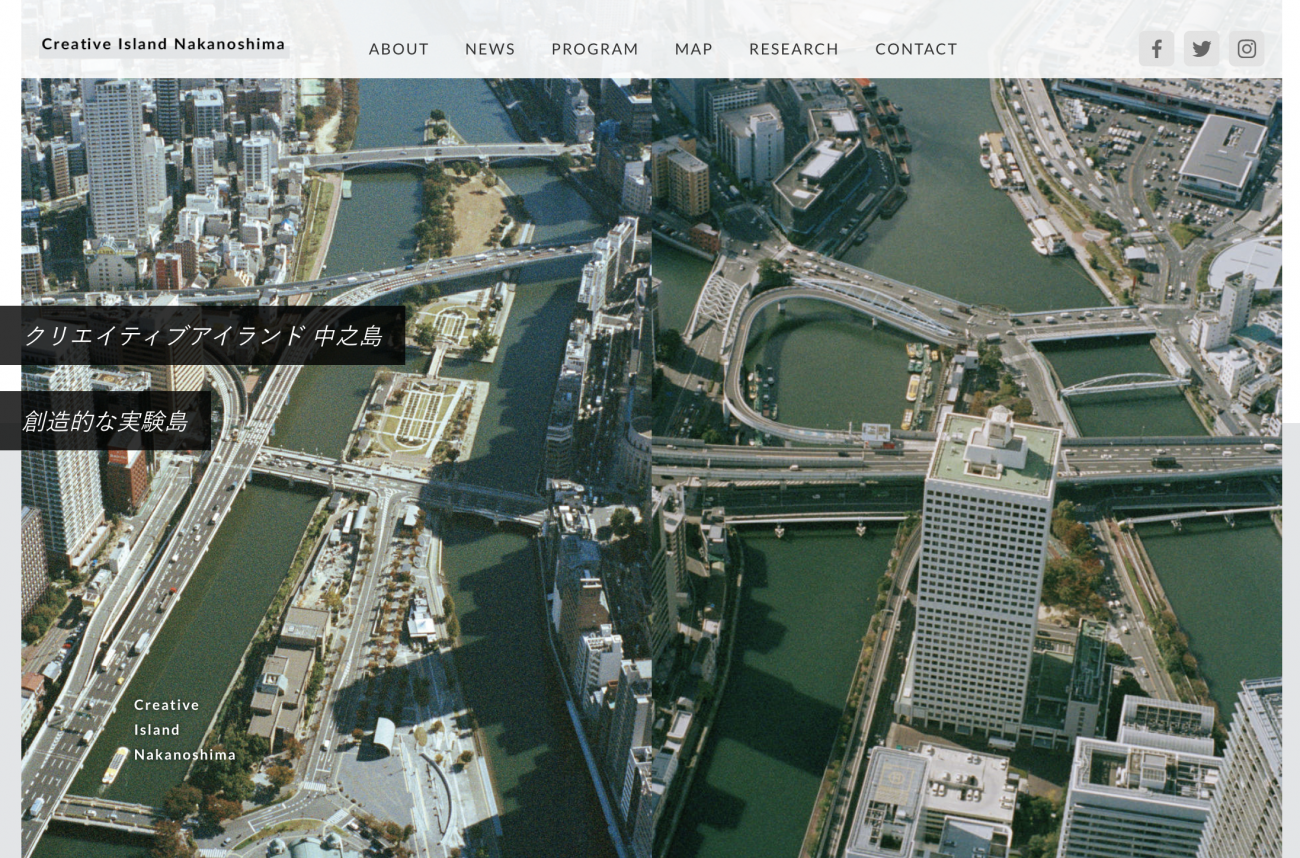 Creative Island Nakanoshima https://nakanoshimalab.jp
【Kinoshita】
Yes, that's right. It was a program directed by Naohiro Ukawa, an artist who runs the DOMMUNE live streaming channel, that continued right until today (February 14). Nakanoshima is a 3.3 kilometer-long island in Osaka, comparable to places like the Ile de la cite in Paris, or the Museumsinsel in Berlin. It is home to a total of 14 different types of institutions, including the National Museum of Art, the Science Museum, and the Museum of Oriental Ceramics, and they are connected via a network that was in fact set up immediately after the outbreak of Covid-19 in 2020. One major concern that was repeatedly discussed at the time was the question how museums and other facilities are supposed to produce physical events in real spaces. I think our path from that point on resembles that of SIAF.
Inspired by the belief that there must be something that we could do, one thing that we considered to be particularly important – again, probably just like you did with SIAF – was to keep moving ahead, and build some kind of media platform. One option that seemed reasonable to us this time was to take things online, resulting in the daily online "Night & Day Program" that was streamed around the same time as SIAF TV, from February 6 until today.
【Hosokawa】
At SIAF, it was Ms. Tamura who headed the P&I program. How do you look back on that experience, Ms. Tamura?
【Tamura】
Thank you, Ms. Kinoshita. Once the cancellation was decided, we continued by somehow groping our way forward while repeatedly consulting the people in the Committee, so in this respect I suppose the situation at SIAF was the same as yours at Nakanoshima. That was when Ms. Kinoshita gave us the advice that, as it is first and foremost about the people involved, those people – in our case that's primarily the participating artists – should be the first to approach when discussing what could be done in a situation like this. For me personally, that idea served as a guideline for every step I took from the point the exhibition was canceled, so I am particularly thankful for that advice.
Ms. Kinoshita, you talked about building a platform through your activities at Nakanoshima. The program has just ended, so I guess it's still a bit early, but I am curious to know whether there was some discovery or something that you noticed while doing something as entirely new as your project.
【Kinoshita】
In the system that has been adopted up to now, I think the focus was primarily on oneself, one's own collection, one's own personal connections, the organization of the institution one belongs to. Now, with Covid-19 as a major issue that we share with everyone else, the question that came up was how art can be practiced in the future, with an eye to society at large.
Museums may no longer be able to show exhibitions based on physical displays and media. Venues at Creative Island Nakanoshima include the Festival Hall, with 2,500 seats one of the largest halls in the world, and for them as well, it has become impossible to host any event in the so-called category of commercial entertainment. So the idea was to take this situation of a large but completely empty hall, and look at it in a positive way as an "opportunity" to carry out programs that wouldn't normally be possible. For one event that we realized, we limited the number of visitors to about 150, and allowed them to move around the 2,500 seats to compare the acoustic properties. In this case, having only a small number of people coming to the venue was seen as a positive circumstance, so based on that perspective, we created new contents including talk sessions with sound engineers and other related professionals.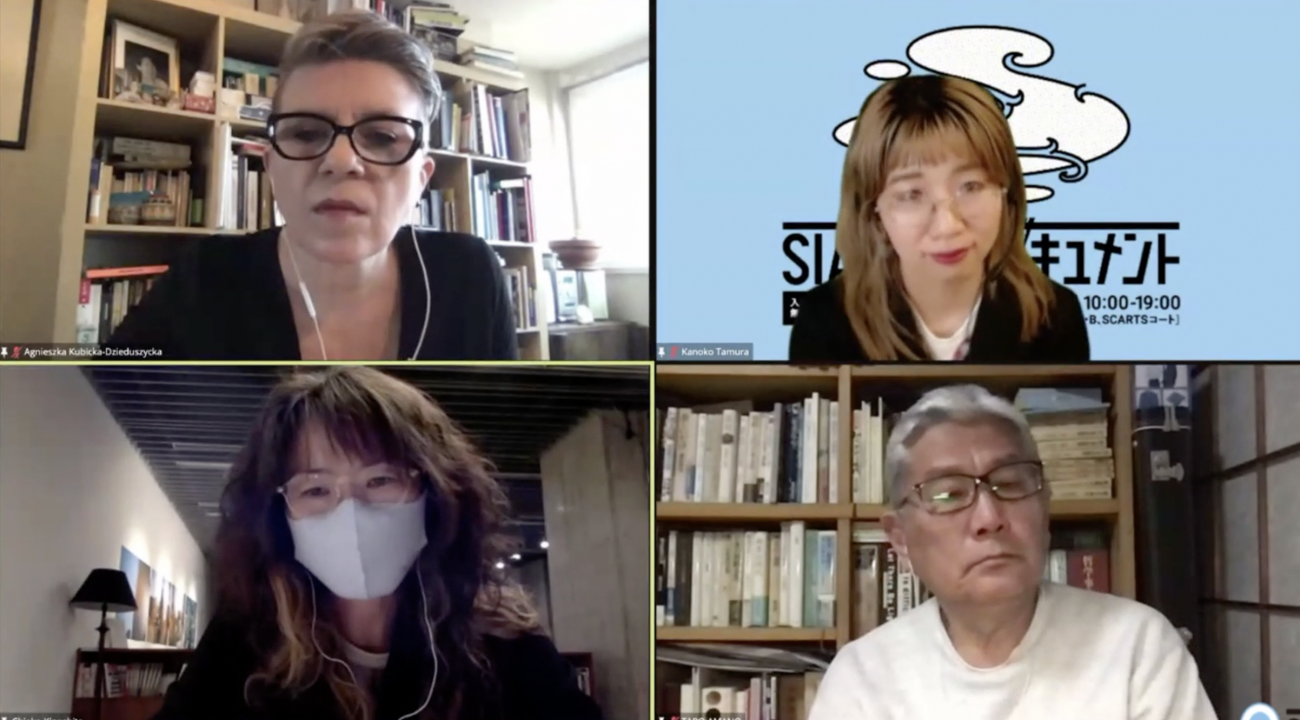 The Nakanoshima project, as a media platform, revolved around the keywords "collaboration," "exchange" and "relay," referring to the collaborations and exchange between people and collections, to connect different times and places in a relay kind of way. Each program was based on these keywords, along with the challenging idea to extend authority also to the respective other party, adopting a curatorial style that approaches the matter from the different viewpoints and values of different people.
Not that every idea can be realized, but I think that this is exactly what reflects the original purport of art, which is to re-read existing things. As Mr. Yoshimoto pointed out, it is undeniable that, especially in the Japanese government's cultural policy, there has been an emphasis on the inbound side of things like economy and tourism. I think we have come to a point where, in order for art to be independent as art, we should review and reconsider – also from the viewpoint of people that are actively engaged – what creativity in art is all about, and seriously reflect on the generation of effects and values in this respect. This may be done in a rush, but under the conditions we were facing, I think we had plenty of time to discuss these matters carefully.
【Tamura】
You are absolutely right. Right now with Covid-19, for the time being the usual criteria – how many visitors we have, or how the revenue is – are being disregarded, and one thing that I sensed while doing the SIAF program is that, for both Nakanoshima and SIAF, this is a time for experimenting with things that we probably couldn't do with those usual criteria in effect.
When thinking about where to go next, I think we need to ponder how to take the various things that we were able to try out in this time of experimentation, and apply them in the post-Covid age. As nothing will probably be as it used to be, we will need to reconsider values and criteria, and whether things like art festivals will work in the first place. In that phase of reconsideration, the question we have to ask is how we can carry the most essential things that we learned through our experimentation, on to the next stage. Ms. Kinoshita, do you have some kind of vision in this respect?
【Kinoshita】
In a way, rather than a kind of logic that goes like, "There is this kind of value, so we should do it this way," in my view, art is originally nothing but a wisdom that humans have cultivated for the purpose of fighting against nature. This means at once that art is something truly remarkable that only humans can create. When it accumulates, it forms what we call culture and value, so in this sense, it is perhaps something that we have to look at in a much larger time frame. However, we are expected to produce results immediately, in time spans of three years, or maybe five years. I think we are agonizingly edging our way ahead in a totally inconsistent value system that, on the one hand, is tied up in an economical kind of logic, while on the other hand growing bigger just because of that.
Based on that, we have to strictly declare something like a value of "relentless experimentation" as those on the practicing side have begun to promote, and rather than applying the results to some kind of business plan, they should be regarded as an investment for the future.
Furthermore, as Ms. Tamura aptly described, regarding those on the receiving side, rather than some unilateral and edifying kind of training, this time we have in fact experimented with the potentials on the art side of things as well, while incorporating also such keywords as "TV" or "TV program" for example, which have come to be denied in the realm of art as "entertainment." So, much rather than cultivating a new audience, I think it has been an opportunity for us to re-evaluate the narrowness of the value system also regarding our own work, while making use of that potential of media. Therefore, we need to promote a style that is not unidirectional, but that investigates the arguments, values and standards of both sides, to ultimately be able to propose alternative standards.

I suppose that everyone who experiments with things, knows the feeling of wishing to be able to report about success experiences, while in reality having to leave the achievement of results to others. But as a matter of fact, to say things like, "We may not know the true value yet, but these may be possibilities for the future," and thereby spur on people's creativity, is the only thing that art can do. It's about encouraging people to imagine things that aren't there now. It's about creativity, and as we won't get anywhere if we start talking about the difficulty of it, the question is how to increase environments and networks in which we can keep going.
In this respect, there are lots of ideas and plans collected in the Index catalogue that will be published later in March I think. We have been assigned with the task of finding ways to take over and pass on the individual ideas and intents behind the works that are introduced there, and I just thought that it would be best if we could somehow help realize those ideas in one form or another.
This January/February, I actually had an unexpected chance to work with Satoshi Someya, one of the artists who was supposed to participate in SIAF2020, while Atsuko Mochida, who was initially supposed to present her works at Moerenuma Park, participated in an exhibition of works by the general public, for which I was one of the judges – next to Ms. Iida. So for me it feels like taking part in some kind of relay in a broader sense, and from here it will be about scanning the ideas contained in Index carefully, and thinking about what we can do with them.
Rather than on the level of individual art festivals, what I imagine is a rather integral form of co-creation that tackles such issues as who should run in the relay and pass on the baton of art and culture, and in addition, promote that as a value in itself, from a broader perspective.
【Tamura】
Thank you. As you explained, thanks to that situation with various criteria and values being suspended, I believe that we managed to deal with the cancellation in a uniquely SIAF kind of way. We were able to make very straightforward judgments, such as choosing a title for this YouTube program that is as simple and easy to understand as "SIAF TV" for example. This closing talk session was planned as an event to wrap up the program for now, and while people tend to understand this as an "I've said what I had to say, now it's your turn" kind of situation, one thing that I realized once again while listening to Ms. Kinoshita is that, in a situation like this, continuing to communicate the value of what we have done in a creative way is for us at once a matter of responsibility and possibility. If we have the spirit and preparedness to keep experimenting without leaving those things to others, and the physical strength to carry on, this will ultimately generate something like sustaining power – not only for the framework of the Sapporo International Art Festival, but for art at large. This idea gave me some courage to see this closing talk session not as an ending, but to keep going. Thank you very much.
【Kinoshita】
I think it is certainly possible to create environments in which each baton that is passed on can flourish and unfold in its very own kind of metamorphosis. I think our task is now to pick up the thoughts that have been expressed here today, along with intention behind the theme "Of Roots and Clouds" that we all agreed on, and I hope to become able to run with them. Thank you very much.
【Hosokawa】
Thank you very much to both of you. The Committee members are experts in the field, but at once they are very much also active players in the game. I am grateful for having the chance to listen to Ms. Kinoshita's account from such a perspective.
---
The final guest today is Mr. Yoshizaki, a Sapporo local member of the Committee.
【Yoshizaki】
Good evening. Thank you to all of you for your efforts. Among all of the directors and the committee members, I am the only one who has actually seen the SIAF2020 Document showcase. I suppose you have all felt the great amount of energy also when viewing it online, but only at the venue one could really sense that eagerness to keep adding new values to what has been built up with the artists, and the awareness that this showcase is not supposed to be a terminal point.
Standing in that space, or watching the programs with daily changing guests produced at the studio inside the venue, I felt that very same "by any means possible" kind of determination to go to the limits of one's capacity – also physically – to realize the various ideas, just like you described the motivation behind this P&I program. Thank you once again.

【Hosokawa】
Thank you, Mr. Yoshizaki. You were in fact the one person who witnessed the P&I program at the closest range possible, and as you have also followed the previous editions of SIAF, I would like you to talk a little bit about how you perceived the program this time, and how you imagine the future of SIAF.
【Yoshizaki】
Before joining this art center called SCARTS, where I am presently based, I used to work as a curator at the Sapporo Art Park for about thirty years. I would like to share some thoughts from the perspective of someone who has been observing the Sapporo art scene while working at cultural facilities. I literally felt on my skin how, thanks to the previous two festivals, the art scene in Sapporo has changed little by little. However, quite frankly speaking, it also seems to me that SIAF is kind of fighting alone here. I also imagine that many of the artists in Sapporo/Hokkaido are still looking at SIAF from a somewhat disconnected place.
What is also true is that the relationships with art museums and other cultural facilities in Sapporo could be better, which also has to do with the administrative relations between Sapporo City and Hokkaido, and the fact that such organizations as ours bring all kinds of different expectations to the table doesn't exactly make things easier.
Previous venues of SIAF include the Hokkaido Museum of Modern Art and Sapporo Art Park, whereas in most cases the relationship was merely a matter of "providing exhibition space."

One thing that I was particularly happy about this time was to see curators from museums in Hokkaido being invited to join projects. Rather than just being opportunities for engaging with the local community, I'm seeing this as an important first step in the establishment of a network that is surely going to expand from here. The participation of Hokkaido-based curators was also mentioned here earlier, and I would like to ask you, Mr. Amano, how you perceived the views and ideas that they brought to the table, and the various projects that they inspired.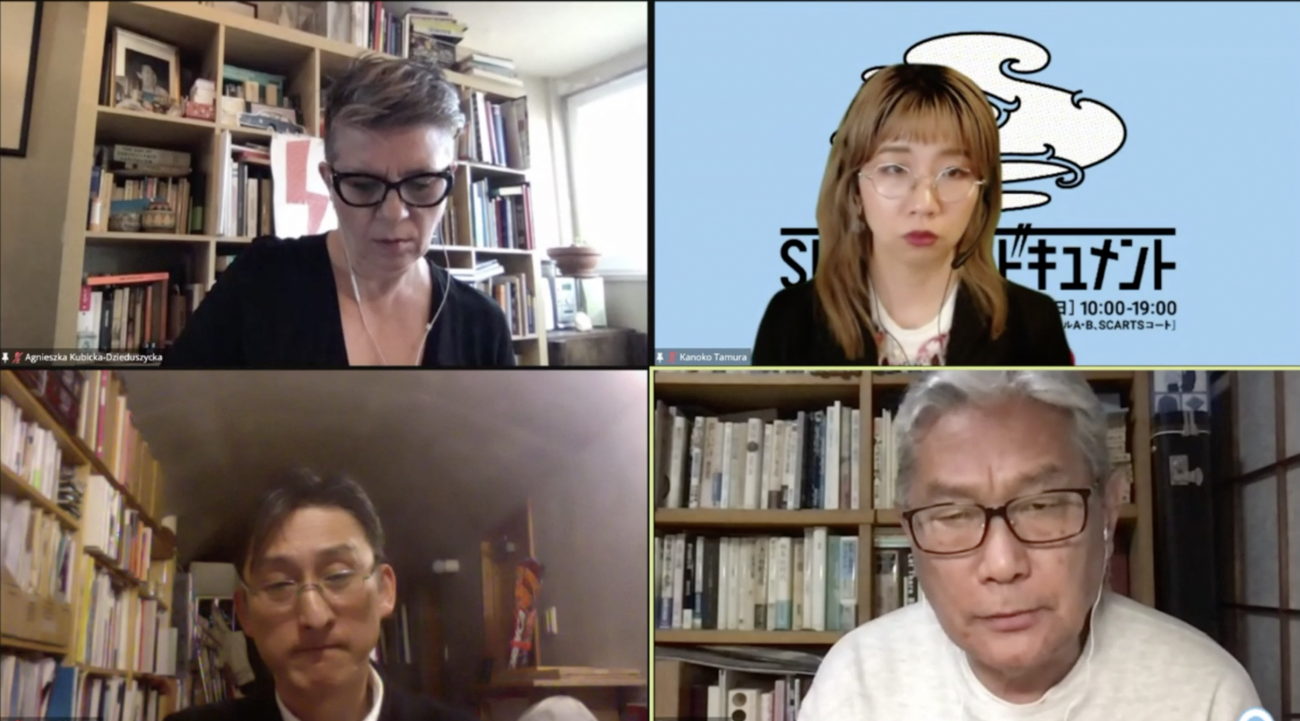 【Amano】
Thank you very much. Regarding my own experience with such so-called "international art exhibitions," the first one that I was involved in was the Yokohama Triennale in 2005, and after that came SIAF. I was involved as a curator at the time. The Yokohama Museum of Art was one of the venues, and that was my working place.
When imagining how things might develop in the next five, ten or twenty years, I feel that the already very precarious situation regarding the operation of art museums is going to get even worse. It also has to do with the fact that public funds keep decreasing. In this respect, I think the question how such facilities can survive depends to a very large degree on art festivals. For every art museum, its own collection means everything, and here it is important to think about how that collection can be involved in art festivals. In a situation where we needed to come up with methods and formats that were different from how these events used to work, I definitely wanted to take that aspect into account. As I mentioned earlier, the people to talk to are those with the greatest knowledge of the matter, and in this case, that's precisely the respective curators in charge at the museums involved. I really hope that more of them will join the team, and I will be very thankful for any advice regarding the project itself. In other words, I believe that it will be necessary also in the future, to include ideas based on the viewpoints of such people who have been following SIAF from their respective local regions.
【Yoshizaki】
Thank you very much. Going back to the notion of SIAF "fighting alone" as I put it earlier, the aims and functions of museums and art centers, and those of events like art festivals, may be different, but in the long run, I think they all share the same larger goal of "giving something to the people and society through art." I believe that there are a lot of things that can be done just because it is a large-scale festival that is held every three years in Sapporo, and things that are only possible because the involved museums and art centers have been steadily operating in Sapporo.
For example, one of the goals of an art festival is to familiarize citizens with contemporary art and media art, and to get more people interested, but possibilities are certainly limited when you do that only once every three years. I think that quite a large portion of the idea of art mediation, which assumed a central role in the program this time, is actually overlapping with the things that have been done, and that should be done in the future, in the name of education at facilities like art museums. Rather than attempting to change Sapporo with SIAF alone, in my view, it would be good to do all sorts of exhibitions and performances at museums, at SCARTS, and at various other locations across Sapporo, clearly define the position and function of SIAF within that scheme, and then string all these components and their respective benefits together, in order to work out a rather comprehensive concept for Sapporo.
【Hosokawa】
Thank you very much. Regarding changes in Sapporo, including especially also the effects on art and culture in these times of Covid-19, is there any concrete expectation or positive outlook from your point of view?
【Yoshizaki】
irst of all, not limited to Sapporo alone, there is the fact that a variety of exhibitions and performances have been canceled, postponed, scaled down, or transformed into online programs. I have been watching very carefully the various attempts to take this as a turning point, an opportunity for changing modes of thinking and trying out new approaches. With this P&I program at SIAF being the prime example, there is also an art fair that has been held at art museums in Sapporo until today (February 14), along with various endeavors on the Internet. I feel very strongly how these things inspire new creativity, so the entire situation itself I'm not just seeing as a tragic turn of events. It is an occasion for us to move ahead and do something significantly different, and I am confident that overcoming all this will at once mean that something different is going to emerge on the other side.

【Amano】
As I said earlier, I think we can say for sure that public facilities across Japan can only survive if they really change things and adopt all kinds of new schemes. In 2000, when an executive agency system similar to the Japanese independent administrative institution was introduced in Europe, I was looking back on a career of about thirty years, just like Mr. Yoshizaki. At the time, we witnessed how quite a few curators from the old school quit because they couldn't catch up, which showed very clearly how the working methods of art museums had changed.
Even in Britain, for example, they shifted to a system where they had to raise funds first, which resulted in a situation where many people were unable to figure out what was going on. I suppose that, even at the Yokohama Museum of Art, there are curators who have no interest at all in the Yokohama Triennale, or in contemporary art, but that's not how it is supposed to work. Rather than looking at who else is on the team, and then pointing out conflicting interests, they should shift to a unifying style that involves everybody, and the contributions that different people can make from their own positions. Applied to the case of Sapporo, this would mean that, as Mr. Yoshizaki also suggested, SIAF does not try to hold out alone, but various other organizations join in while each considering what is necessary for them to really survive. Such things may not be possible overnight, but it occurred to me that this must be the ultimate goal that all aim for.
【Hosokawa】
Thank you very much to everyone from the Committee for your comments. I would have loved to answer also some of the many comments that have been posted via YouTube, but unfortunately, we are running out of time. Before we close this event, I would like to ask each of the directors to wrap up the session with a short comment.
Ms. Agnieszka, would you please go first?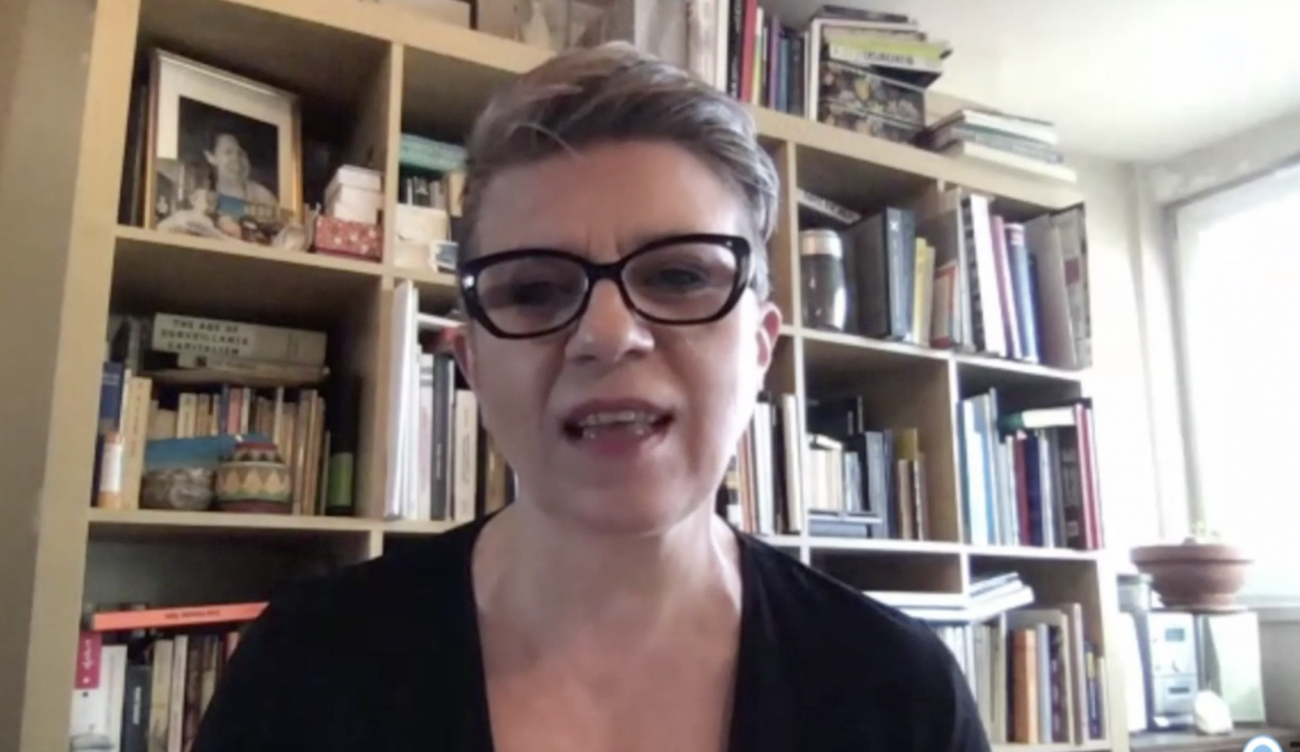 【Agnieszka】
Thank you for this last talk as part of the intensive program that we started on December 19. My wish is that all these archives that we have produced, will stay online, because it's just simply too much good content not to watch properly. It still serves me as a source of inspiration. I would like to thank the Committee members for supporting us on this uncertain journey to the uncertain outcome of SIAF2020. Another wish is that, if possible, I would really like to stay connected to SIAF, serving with my expertise and experiences. I think it's just a great festival, very significant for the city that it is organized in, and I keep my fingers crossed for 2023!
【Hosokawa】
Thank you very much. Next I would like to ask Ms. Tamura for a comment.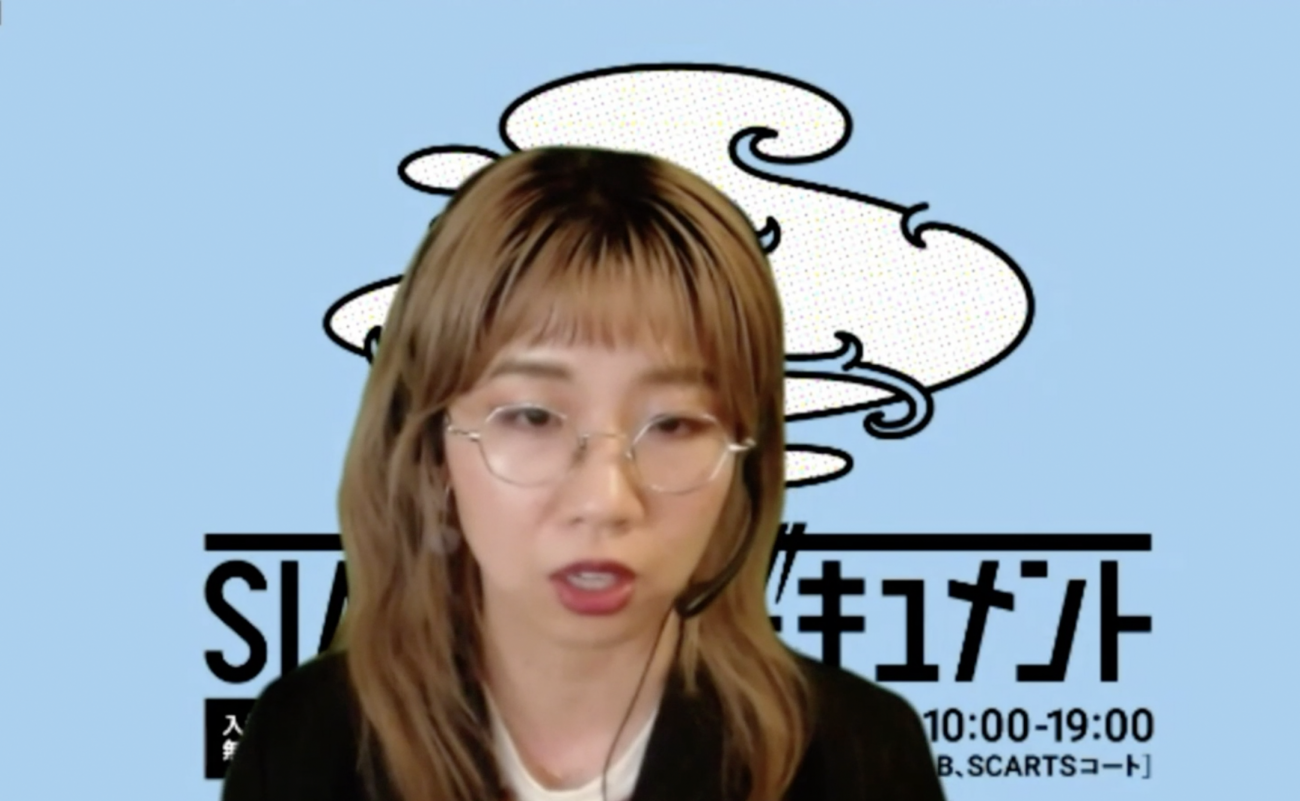 【Tamura】
There are in fact many things I want to say. It was in July that we decided to call everything off, and the closer we got to the day the festival was supposed to open, a lot of people expressed the opinion that canceling the festival was the right decision, considering the state of things regarding Covid-19. People stressed how we made a good decision, and I personally think so too, but this is one of those experiences where you feel that "You made the right decision!" isn't exactly what you want to hear. We did make the right decision, but personally I was as unhappy with that as I have never been before or since. So even though I did my best for the P&I program, and really wanted to make it as good as possible, at the same time I had a feeling that I shouldn't forget that sense of vexation about everything we could not do, and that feeling of anger about everything going up in smoke, along the way. So I ended up throwing all these feelings into it, but altogether I am glad that I could muster up the power to do it at all.
This ten-day SIAF TV program was an opportunity for a broad variety of people to reflect on SIAF, and one thing that I realized when learning about the respective views from which they have been observing the festival, is that SIAF2020, with its cancelled exhibitions, has no clearly outlined shape. Even though there was of course a preset term, in the end it wasn't really clear when it began and when it ended. But on the other hand, it occurred to me that this would make it possible for us to connect this edition to the next one in 2023, in a new way that is different from how the baton has been taken over in 2014 and 2017. Many of the guests that appeared in SIAF TV have expressed the opinion that SIAF2023 was already here so we could actually start right away, and stage guerilla style events for example where all participants do something at their own respective locations. That eventually inspired me to think along those lines as well, and while we don't know yet what will be in store for us after the end of Covid-19, I think we have already started working toward 2023.
When going back to square one to work on the next festival, I started pondering such questions as whether we actually need a clearly defined term, and whether there have to be fixed opening hours. While focusing on Sapporo and locally rooted activities, we may as well also include other places than Sapporo, and venues that don't necessarily have to be located inside buildings. As I feel that we are now in a free choice kind of situation in this respect, with all these different options for the next festival, I think we really have a hit on our hands for SIAF.
One thing that I particularly hope we will be able to develop further, is that kind of resilience that we displayed also in the P&I program; the flexibility to stand up even when being trampled on. With all these positive things in mind, at the same time I also think we should pass on the baton without forgetting the chagrin and the things we couldn't realize this time around. Just like Ms. Agnieszka, I hope I will be able to remain involved in SIAF in one form or another also in the future. Thank you very much.
【Hoskawa】
Thank you very much. Mr. Amano, would you please make a final comment?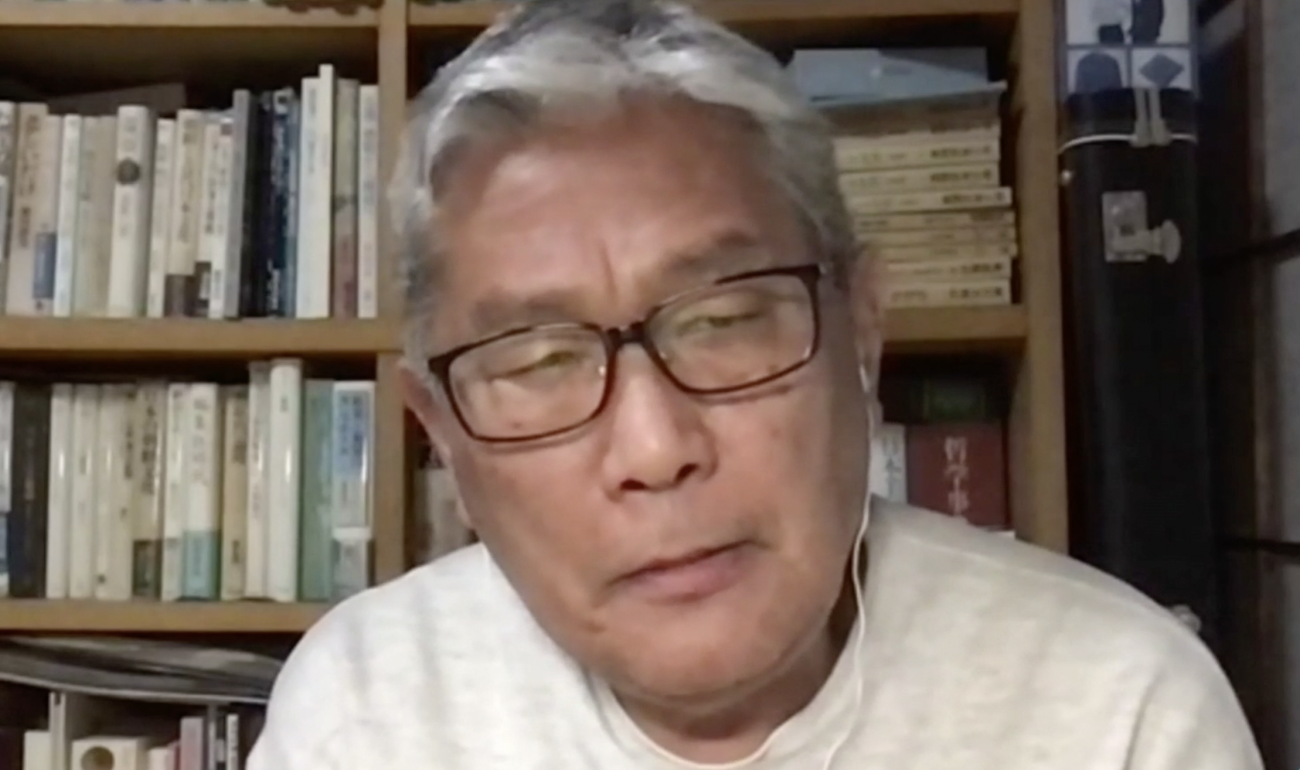 【Amano】
Let me start with a very personal thing. Even though I had been invited to join as a member of the Committee, I certainly didn't expect to be asked to take over the post of a director of this festival. In addition to that, the place was Hokkaido, where I first started my career as a curator, and I was going to work with a local curator who used to be more or less a colleague of mine. For me personally, the opportunity to work with a former colleague was a very fortunate condition. On that foundation, we made the decision to cancel the festival, and, considering also the entirely unfathomable situation with Covid-19, I am still only able to think in an ex-post facto manner, so I will take my time and reflect on how I'm supposed to interpret all this.
Anyway, as the other guests have pointed out, an incredible amount of energy has been channeled into the program that was eventually realized during the period of original festival schedule. This is an undeniable fact. They say that an exhibition is over when it's over, and it cannot be repeated. This time, however, instead of an exhibition, there is definitely something else that remains in the form of what we may call an archive, and I really hope that it will be utilized in the future. We may need an archivist for that, and as I believe that we need such kind of system now more than ever, I would be very happy if this archive proved useful and helpful in the establishment of such a system. Thank you very much.
【Hoskawa】
Thank you, Mr. Amano. I think this closing talk session communicated very vividly how the SIAF team is getting bigger and bigger. We also received a large number of comments on YouTube. I hope that many of those who posted comments this time will help form a powerful team for the next installment. I also believe that the five directors, with three new ones added to the previous team of two, will certainly function as helpful advisors. We will be counting on your continued involvement.
【Tamura】
Let me close by expressing my gratitude to everyone in the administrative team who really spared no effort to realize this P&I program and all of the other programs. I am not in Sapporo, so I can only try to imagine, but I think their achievements really surpasses the imagination. I would also like to thank everyone who watched the program.
Thank you once again to everyone involved.
【Hosokawa】
I would now like to close the event. Thank you to the interpreters, Ms. Iwasaki and Ms. Tanaka; to the members of the Committee, Ms. Iida, Ms. Kinoshita, Mr. Kubota, Mr. Yoshizaki, and Mr. Yoshimoto; and to our directors, Mr. Amano, Ms. Agnieszka, and Ms. Tamura.
Once again, thank you so much to all of you.